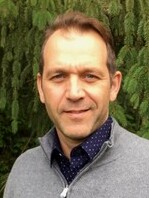 Nelson Thiffault
Chercheur régulier
Sylviculture et gestion de la végétation
Centre canadien sur la fibre de bois
Service canadien des forêts
1055, rue Du P.E.P.S., C.P. 10380
Québec (Québec) G1V 4C7
nelson.thiffault AT nrcan-rncan.gc.ca
ResearchGate

|
LinkedIn

|
Twitter

|
Google Scholar

|
ORCID

FORMATION
Doctorat (Ph. D.) en sciences forestières, Faculté de foresterie et de géomatique, Université Laval, 2003
B.Sc.A. en aménagement et en environnement forestiers (génie forestier), Faculté de foresterie et de géomatique, Université Laval, 1998
THÈMES DE RECHERCHE
Je suis ingénieur forestier, diplomé de l'Université Laval avec un B.Sc.A, en Aménagement et environnement forestiers (1998) et un Ph.D en sciences forestières en 2003. Je chercheur scientifique au Centre canadien sur la fibre de bois de Ressources naturelles Canada depuis 2017. Je suis également professeur associé à l'Université Laval, l'Université de Sherbrooke, l'Institut de recherche sur les forêts de l'Université du Québec en Abitibi-Témiscamingue et à l'Université de Toronto. Membre du CEF depuis 2007, j'agis comme directeur scientifique associé (Associate Editor) au Canadian Journal of Forest Research

. Je suis codirecteur scientifique du Réseau Reboisement Ligniculture Québec

, un réseau d'innovation qui met en relation les chercheurs et les utilisateurs de la recherche dans le domaine de la plantation d'arbres sous ses différentes formes.
Mes travaux portent sur l'établissement et la sylviculture de la régénération résineuse, naturelle ou plantée. Je m''intéresse notamment à l'utilisation des plants de fortes dimensions, à la préparation mécanique du terrain et au dégagement mécanique. J'étudie également les interactions entre la végétation compétitive et les plants mis en terre, de même que l'écologie des stations envahies par les plantes éricacées.
I'm a Research Scientist focussing on reforestation silviculture, competition and ecology. I'm an Associate Editor to Canadian Journal of Forest Research

and an Adjunct Professor at ULaval, UofSherbrooke, UofT and Université du Québec en Abitibi-Témiscamingue, where I supervise graduate students. I'm Co-Lead of 2RLQ (Réseau Reboisement Ligniculture Québec

), an innovation network of researchers and end-users that focuses on reforestation under its many forms, and a member of the Centre for Forest Research since 2007.
PUBLICATIONS
Books
Book chapters
Edited books, special journal editions and proceedings
Peer-reviewed articles
Articles published in proceedings
Scientific reports, manuals and others
Theses, dissertations and essays
Thiffault, N. (2003) L'établissement de plantations de conifères en relation avec le scarifiage et la végétation de compétition. PhD thesis, Université Laval
Supervised theses, dissertations and essays
Non peer-reviewed articles
Autres publications
Thiffault, N., Elferjani, R., Hébert, F., Paré, D., et Gagné, P. 2020. Préparation mécanique de terrain pour l'établissement de plantations de peuplier hybride à courte rotation. Une étude de cas dans l'Est du Québec. Réseau Reboisement Ligniculture Québec. 3 p. lien vers le document Δ
Groupe d'experts sur la sylviculture intensive de plantations (2013) La sylviculture intensive de plantations dans un contexte d'aménagement écosystémique – Rapport du groupe d'experts. Sous la direction de M. Barrette et M. Leblanc, Québec, 112 p.
Comité scientifique sur les enjeux de biodiversité (2010) Enjeux de biodiversité de l'aménagement écosystémique dans la réserve faunique des Laurentides. Rapport du comité scientifique. Sous la direction de N. Thiffault. Ministère des Ressources naturelles et de la Faune. Québec (Québec). vii + 147 p. Téléchargez le document (5.72 Mo)
<< Martin-Hugues St-Laurent | MembresReguliers | Jean-Pierre Tremblay >>