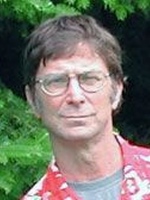 David F. Greene
Écologie forestière
Université Concordia
Départment of Geography, Planning and Environment
S-H 1255 11
1455 de Maisonneuve Blvd. W.
Montreal (Québec), Canada, H3G 1M8
(514) 848-2424 Poste 2063
Page départementale

FORMATION
Ph.D. en biologie, écologie végétale, 1990 (University of Calgary). Directeur : Dr. E.A. Johnson.
M.Sc. en géographie physique et biogéographie, 1983 (University of Calgary). Directeur : Dr. S.A. Harris.
B.Sc. en géographie physique, 1981 (University of California-Berkeley).
BIOGRAPHIE
Dr. Greene started working at Concordia in 1988. A forest ecologist, he studies seed production, seed abscission and dispersal, and germination, as well as broader issues in forestry and disturbance ecology. He is funded by NSERC and the Sustainable Forest Management Network, and is adjunct with Biology. He is probably best known for his micrometeorological models of wind-dispensed seeds that have been used extensively in forestry to ensure regeneration after logging.
THÈMES DE RECHERCHE
Dr. Greene research focused on reproductive biology -- pollen and seed production, abscission, and dispersal; germination and seedbeds -- as well as disturbance (especially fire and ice storms). He has ongoing projects in the boreal forest of Quebec and Alberta, treeline at Inuvik, the southern Canadian Rockies, and the state of Jalisco in Mexico.
Present Research Projects
Abscission of seeds and pollen.
Regional climate and the mass seeding of white spruce.
Modelling white spruce recruitment in small clearcuts.
The effect of post-fire salvage on tree recruitment
Determining whether trees in dry tropical forests have annual rings
Remote sensing of ovulate cone crops during mast years
PUBLICATIONS
Books
Book chapters
Greene, D.F., Michaletz, S.T. (2015) The role of fire in forest ecosystems. In Routledge handbook of forest ecology. (Peh, K.S.-H., Corlett, R.T. and Bergeron, Y., Eds.) Taylor and Francis, pages 114-126
Hayden, B., Greene, D.F. (2008) The ecology of tropical dry forests. In International Commission on Tropical Biology and Natural Resources. (K. Del Claro, P. S. Oliveira,V. Rico-Gray, A. A. Almeida Barbosa, A. Bonet, F. Rubio Scarano, F. J. Morales Garzon, G. Carrion Villarnovo, L. Coelho, M. V. Sampaio, M., Quesada, M. R.Morris, N. Ramirez, O. Marcal Junior, R. H. Ferraz Macedo, R. J., Marquis, R. Parentoni Martins, S. C. Rodrigues, U. Luttge, Eds.) UNESCO, EOLSS
Greene, D.F., Jones, K.F., Proulx, O.J. (2007) The Effect of Icing Events on the Death and Regeneration of North American Trees. (Chap. 6) In Plant Disturbance Ecology: The Process and the Response. (Johnson, E.A. and Miyanishi, K., Eds.) Academic Press, pages 181-213
Johnson, E.A., Morin, H., Miyanishi, K., Gagnon, R., Greene, D.F. (2003) A process approach to understanding disturbance and forest dynamics for sustainable forestry. (Chap. 8) In Towards Sustainable Management of the Boreal Forest. (Burton, P.J., Messier, C., Smith, D.W. and Adamowicz, W.L., Eds.) NRC Research Press, pages 261-306
Edited books, special journal editions and proceedings
Peer-reviewed articles
Articles published in proceedings
Scientific reports, manuals and others
Greene, D.F., Crisfield, V. (2006) Final report on tree regeneration on seismic lines in the uplands and Delta near Inuvik. Technical report, Gwich'in Renewable Resource Board, Inuvik, NWT.
Greene, D.F., Kneeshaw, D.D., Messier, C., Lieffers, V., Grover, G. (2000) Deriving alternative silvicultural techniques from knoweldge of the ecology of tree regeneration. Technical report, SFMN
Theses, dissertations and essays
Greene, D.F. (1990) The aerodynamics and dispersal of winged and plumed seeds. PhD thesis, Department of Biology, University of Calgary
Greene, D.F. (1983) Fire, permafrost and the regeneration of white spruce at treeline near Inuvik, Northwest Territories. Master's thesis, Department: Geography, University of Calgary
Supervised theses, dissertations and essays
Non peer-reviewed articles
<< | MembresReguliers | >>