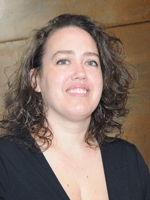 Annie DesRochers
Membre régulier
Écologie et sylviculture
Université du Québec en Abitibi-Temiscamingue
Chaire de recherche industrielle CRSNG en sylviculture et production de bois
Institut de Recherche sur les Forêts
341 rue Principale Nord
Amos (Québec) Canada, J9T 2L8
(819) 732-8809 Poste 8327
Page départementale

| Chaire AFD

| Google Scholar

| ResearchGate

Collaboration souterraine : une des 10 découvertes de l'année 2010 dans Québec Science

!
FORMATION
Postdoctorat en silviculture intensive, 2002 (Alberta-Pacific Forest Industries Inc.)
Ph.D. en biologie forestière et aménagement, 2000 (University of Alberta)
M.Sc. en écologie forestière, 1996 (Université du Québec à Chicoutimi)
B.Sc. en biologie, 1994 (Université du Québec à Montréal)
Travaillant au sein de la Chaire industrielle CRSNG-UQAT-UQAM en aménagement forestier durable

depuis 2002, Annie DesRochers est titulaire d'un baccalauréat en biologie (UQAM, 1994), d'une maîtrise en ressources renouvelables (UQAC, 1996) et d'un doctorat en biologie forestière et aménagement (U. of Alberta, 2000).
THÈMES DE RECHERCHE
Ses intérêts se situent au niveau du développement de techniques sylvicoles pour plantations à croissance rapide en milieu boréal. Elle s'intéresse aussi à l'étude des liens racinaires dans les peuplements de peuplier et de résineux ainsi que l'effet de ces liens sur la dynamique des peuplements forestiers.
Elle est titulaire de la chaire industrielle CRSNG en sylviculture et production de bois

.
Ses travaux de recherche se divisent en deux grands axes :
La sylviculture intensive des plantations à croissance rapide
Au sein du premier axe, Annie DesRochers travaille principalement au développement de stratégies sylvicoles (préparation de terrain, fertilisation, éclaircie, etc.) pour les plantations d'arbres améliorés et à croissance rapide en régime de sylviculture intensive. Depuis son arrivée à l'UQAT, plusieurs plantations ont été établies dans la grande région de l'Abitibi-Témiscamingue et son équipe commence à acquérir l'expertise nécessaire pour en maximiser la croissance. Les dispositifs sur le terrain et en milieu contrôlé (pépinière, chambre de croissance, serres) lui permettent de mieux connaître la physiologie des variétés disponibles pour le reboisement. De plus, les infrastructures disponibles à l'UQAT lui permettent maintenant de développer de nouvelles variétés et des clones bien adaptés à la région.
L'écophysiologie des liens racinaires chez les espèces d'arbres de la forêt boréale
Cette partie des recherches du Dr. DesRochers vise à comprendre les rôles écologiques et physiologiques des liens racinaires dans la dynamique de la forêt boréale. Bien que les racines constituent environ le tiers de la biomasse des arbres, elles ont reçu très peu d'attention par le passé. Elle compte donc « commencer par la base » pour acquérir de nouvelles connaissances sur les arbres et la dynamiques forestière. Plus spécifiquement, cette recherche vise à découvrir comment les arbres peuvent interagir avec, et directement affecter, leurs voisins à travers des liens et greffes racinaires.
DISTINCTIONS
Janvier 2011 - Les travaux de Annie DesRochers et Émilie Tarroux portant sur les greffes racinaires sont parmi les dix découvertes scientifiques de l'année 2011 selon Québec Science. Elles font partie des dix percées scientifiques exceptionnelles retenues parmi près d'une centaine de candidatures reçues. Les critères de sélection des découvertes sont la rigueur scientifique, l'originalité, la diversité et l'aspect novateur et utilitaire des travaux de recherche.
PUBLICATIONS
Books
Book chapters
Pappas, C., Belanger, N., Bergeron, Y., Blarquez, O., Chen, H.Y.H., Comeau, P.G., De Grandpre, L., Delagrange, S., DesRochers, A., Diochon, A. et al. (2022) Smartforests Canada: A Network of Monitoring Plots for Forest Management Under Environmental Change. In Climate-Smart Forestry in Mountain Regions. (Tognetti, Roberto, Smith, Melanie and Panzacchi, Pietro, Eds.) Cham, Springer International Publishing, pages 521-543
Edited books, special journal editions and proceedings
Peer-reviewed articles
Articles published in proceedings
Scientific reports, manuals and others
DesRochers, A., Morissette, S. (2008) Comparaison de la croissance de 4 types de plants de peuplier hybride dans les sols argileux de l'Abitibi-Témiscamingue – résultats après 2 ans. Technical report, Réseau Ligniculture Québec et Chaire industrielle CRSNG-UQAT-UQAM en aménagement forestier durable
Theses, dissertations and essays
DesRochers, A. (2000) Aspen (Populus tremuloides Michx.) clonal root dynamics and respiration. PhD thesis, Alberta University
DesRochers, A. (1996) Détermination de l'âge de l'épinette noire (picea mariana) en sous-étage de peupliers faux-trembles (populus tremuloides) dans la forêt boréale, Québec. Master's thesis, Université du Québec à Chicoutimi
Supervised theses, dissertations and essays
Non peer-reviewed articles
<< Annie Deslauriers | MembresReguliers | Emma Despland >>