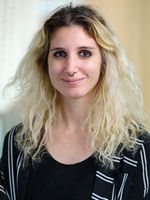 Valentina Buttò
Membre associée
Phénologie, Anatomie du bois et Écophysiologie
Professeure régulière en sciences forestières
Institut de Recherche sur les Forêts
Université du Québec en Abitibi-Témiscamingue
445 Bd de l'Université Rouyn-Noranda (Québec) J9X 5E4
BIOGRAPHIE
Mes recherches portent sur l'étude des facteurs intervenant dans la formation des cernes de croissance dans la forêt boréale et de l'influence de leurs variations sur les caractéristiques finales des cernes. Sur la base de différentes approches de modélisation, j'évalue l'effet des dynamiques de formation du bois sur les caractéristiques de ses cellules afin de déterminer dans quelle mesure les facteurs environnementaux et de développement affectent le processus de formation des cernes. Mes domaines d'expertises vont de l'extraction et de la manipulation des données d'anatomie du bois à l'analyse des larges bases de données avec R.
FORMATION
2021-2022: Post-doctorat, Université du Québec en Outaouais
2017-2021: Doctorat en Science de l'environnement (UQAC,UQAM);
2013-2015: Master in Forest and Environmental science (University of Padua);
2009-2013: Bechelor in Forest and Enviromental science (University of Palermo);
THÈMES DE RECHERCHE
traits fonctionnels
croissance intra-annuelle.
mesures anatomiques et analyses des caractéristiques cellulaires du bois avec différents logiciels et avec R.
modélisation
modèle d'équations structurelles
analyse spatiale
PUBLICATIONS
Books
Book chapters
Edited books, special journal editions and proceedings
Peer-reviewed articles
Articles published in proceedings
Scientific reports, manuals and others
Theses, dissertations and essays
Buttò, V. (2015) Comparison of xylem anatomical and functional trends in young and old Picea abies and Larix decidua trees in two high altitude sites in the Alps. Master's thesis, University of Padua
Buttò, V. (2013) Il parco dei Nebrodi dopo il PIT 33: Ritratto di una realtà territoriale ricca di risorse. Bachelor's thesis, University of Palermo
Supervised theses, dissertations and essays
Non peer-reviewed articles
Actes de conférence
Rossi, S., Zhang, S., Deslauriers, A., Buttò, V., Morin, H., Huang, J. G., ... & Khare, S. (2019, October) Linking phenocam derived phenology with field observations in the boreal forest. In 2019 IEEE International Workshop on Metrology for Agriculture and Forestry (MetroAgriFor) (pp. 132-133). IEEE.
Klisz, M., Buttò, V., Rossi, S., Morin, H., & Jastrzębowski, S. (2019, October) The seasonal cycle of stem variations in beech populations is affected by interannual fluctuation of climatic conditions more than by the tree origin. In 2019 IEEE International Workshop on Metrology for Agriculture and Forestry (MetroAgriFor) (pp. 139-141). IEEE.
Communications orales
Colloque CEF 2021, Colloque en ligne, May 11th. Title: Facteurs environnementaux et développementaux déterminant l'anatomie et la micro-densité du xylème chez l'épinette noire.
Les Rendez-vous de la connaissance en aménagement forestier durable, Session: Modélisation et télédétection, Activity organized by le Ministère des Forêts, de la Faune et des Parcs, May 4th. Title: Ségrégation temporelle entre croissance apicale et formation du bois final dans les peuplements productifs dominés par l'épinette noire au Québec.
Colloque CEF 2019, Chicoutimi (Quebec), May 1th - May 3th. Title: Donne-toi du temps si tu veux grandir! Une relation quantitative entre les dynamiques de formation et les traits anatomiques des cellules du xylème.
Extras