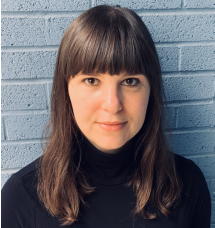 Élise Filotas
Regular member
Ecological complexity and modelling
Département Science et Technologie
TÉLUQ, Université du Québec
5800 rue Saint-Denis
Bureau 1105
Montréal, Québec, H2S 3L5
Departement page

| Personal site

| ResearchGate

| Google Scholar

EDUCATION
Ph.D. Geography, 2009 (Université de Montréal;
M.Sc. Physics, 2002 (McGill University;
B.Sc. Mathematics-Physics, 2000 (Université de Montréal)
RESEARCH THEMES
I am interested in applying concepts and models from complex systems science to study forest ecosystems at multiple scales. My interdisciplinary research activities are focused on developing quantitative, theoretical and applied modelling and analysis tools in the study of two main themes:
The dynamics of ecological communities in forest landscapes.
How do inter- and intraspecific interactions between individuals, and their dispersal ability influence the dynamics of their population at different temporal and spatial scales?
The interplay between forest management and forest function.
How do interactions between ecological processes and management affect the dynamics and function of forest ecosystems?
PUBLICATIONS
Books
Book chapters
Filotas, E., Witte, I., Aquilue, N., Brimacombe, C., Drapeau, P., Keeton, W.S., Kneeshaw, D.D., Messier, C., Fortin, M.-J. (2023) Network Framework for Forest Ecology and Management. In Boreal Forests in the Face of Climate Change: Sustainable Management. (Montoro Girona, M., Morin, H., Gauthier, S. and Bergeron, Y., Eds.) Cham, Springer International Publishing, pages 685-717
Messier, C., Carpentier, S, Angers, V.-A., Tittler, R., St-Denis, A., Handa, I.T., Filotas, E., Paquette, A. (2015) La véritable valeur des arbres et bois urbains et péri-urbains. In L'économie de la biodiversité et des services produits par les écosystèmes: Un regard sur les concepts, outils et sur l'état de l'avancement de la recherche au Québec. (Revéret J-P and Dupras J, Eds.) Presses de l'Université du Québec
Edited books, special journal editions and proceedings
Peer-reviewed articles
Articles published in proceedings
Rikvold, P.A., Filotas, E., Grant, M., Parrott, L. (2011) Mutualistic Interactions and Community Structure in Biological Metacommunities. In APS Meeting Abstracts. Page 44014
Scientific reports, manuals and others
Tittler, R., James, P.M.A., Filotas, E. (2016) Faciliter l'intégration des principes d'aménagement multiservice des programmes de certification. Technical report, Resolute Forest Products
Craven D., Angers, V.-A., Filotas, E., Tittler, R., Desrochers, M., James, P.M.A., Messier, C. (2013) L'aménagement écosystémique de forêts privées du Centre-du-Québec dans le contexte des changements globaux. Technical report, Agence Forestière des Bois-Francs
Theses, dissertations and essays
Filotas, E. (2009) Structure et dynamique des communautés multi-espèces : le rôle de l'espace. PhD thesis, Université de Montréal
Filotas, E. (2002) Partial supersymmetry breaking in brane-world scenarios. Master's thesis, Université McGill
Supervised theses, dissertations and essays
Gagne, C. (2023) Analyse spatiotemporelle d'un territoire agroforestier : quand les conditions paysagères du passé et du présent s'unissent pour influencer les communautés forestières. PhD thesis, UQAM
Laginha Pinto Correia, D. (2018) Potentiel d'utilisation de la diversité fonctionnelle des arbres dans l'aménagement durable des forêts tempérées nordiques et boréales. PhD thesis, Université Laval
Carpentier, S. (2015) Services écologiques et aménagement forestier-vers une nouvelle approche en forêt privée du sud du Québec. Master's thesis, Université du Québec à Montréal
Non peer-reviewed articles
<< Nicole Fenton | MembresReguliers | Daniel Fortin >>