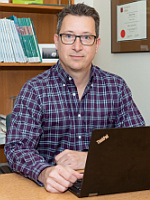 Daniel Fortin
Regular Member
Animal Ecology/Conservation
Université Laval
Faculté des sciences et de génie
Département de biologie
Pavillon Alexandre-Vachon, local 3039
1045 avenue de la Médecine
Québec(Québec) Canada, G1V 0A6
(418) 656-2131 Poste 405971
Biography | Research program | Research team
Publications
UNIVERSITY AND PROFESSIONAL QUALIFICATIONS
Postdoc in biology, 2003 (University of Alberta)
Ph.D. in zoology, 2001 (University of Guelph)
M.Sc. in biology, 1996 (Université Laval)
B.Sc. in ecology, 1992 (Université de Sherbrooke)
BIOGRAPHY
Laboratorio Ecotono Inibioma, Universidad Nacional del Comahue, Bariloche, Argentina (2011).
Laboratoire de Biométrie et de Biologie Évolutive, Université Claude Bernard- Lyon I, France (2011).
OEB Department, Harvard University, Cambridge MA, USA (2010).
RESEARCH PROGRAM
My major research objective is to better understand the effect of behavioural mechanisms on animal distributions in heterogeneous landscapes. To reach this goal, I am investigating ecological topics such as: resource selection, trophic interactions, and behavioural response to anthropogenic modifications of the landscape. My approach to ecological questions combines theoretical studies and fieldwork. Knowledge gained from my studies is intended to help in the management of wildlife populations and preservation of biodiversity by increasing our ability to predict spatio-temporal dynamics of ecological systems.
My research program is currently comprised of four major themes: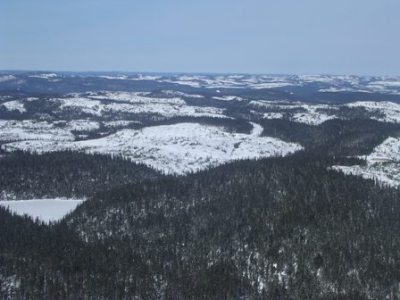 1. Silviculture and wildlife in boreal forest
This research is part of the NSERC-Université Laval Industrial Research Chair in Silviculture and Wildlife. The overall objective is to gain the knowledge and expertise required to build ecosystemic silvicultural strategies adapted to uneven-aged boreal forests so as to comply with recognized criteria of sustainable forest management, including conservation of biodiversity. Fieldwork is conducted in the North Shore region. A large number of wildlife species are currently studied, ranging from invertebrate to woodland caribou.
Main collaborators: David Pothier (U. Laval), Julien Mainguy(MDDEFP), Christian Hébert (Service canadien des forêts) et Jean-Claude Ruel (U. Laval)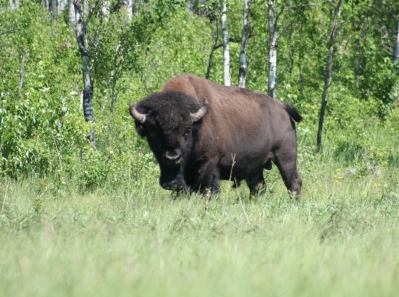 2. Bison in Prince Albert National Park
The conservation of free-ranging bison in Prince Albert National Park faces an important challenge from having to minimize the impact of this population on private lands adjacent to the park. This research on bison ecology is meant to help managers face this challenge. The aim is also to better understand the interactions between bison, other wildlife species and plant communities found in the park. To reach these objectives, we conduct empirical and theoretical research on the foraging behaviour, food and habitat selection, and movement pattern of bison in the park.
Main collaborator: Seth Cherry (Parks Canada) Link to Prince Albert National Park of Canada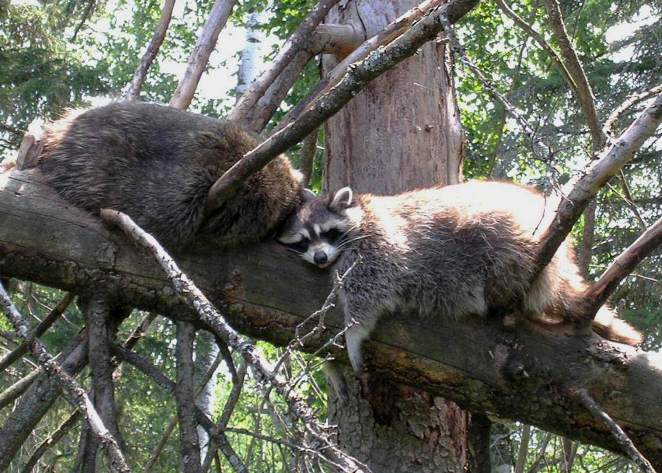 3. Ecological determinants of rabies spread potential in wild raccoon and skunk populations in Québec
This project assess the propagation potential of the racoon variant of rabies in Québec based on a multidisciplinary approach that combines spatial ecology, landscape genetics, behavioural ecology and population dynamics. More specifically, we are evaluating habitat selection and movement patterns of racoons and striped skunks in agro-forest landscapes, identifying genetic structure and gene flow for both species, and describing the social structure and demography of wild racoon populations. This information will be used to develop spatial models of epidemiology that can predict rabies spread. Our research is intended to help manage rabies in wildlife populations, and to reduce the risk of human exposure to the disease.
Main collaborators: Fanie Pelletier (U. de Sherbrooke), Dany Garant (U. de Sherbrooke) et Ariane Massé (MDDEFP)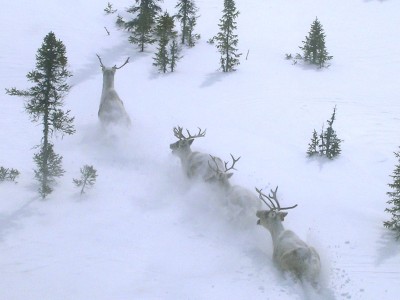 4. Factors driving population dynamics of caribou across the boreal forest of Québec
The main objective of this research is to better understand the relationship between boreal caribou demography and a broad range of habitat features, so that we can identify disturbance thresholds that would not jeopardize the recovery of these populations across Québec's boreal forest. More specifically, we will: 1) establish the functional link between site fidelity, calf mortality and caribou recruitment; 2) evaluate the consequences of selecting forest stands of different age and disturbance origin (fire or logging) on the survival of adult caribou, as a function of the regional fire cycle; and 3) establish the regional variation in the maximum level of natural and human disturbances that caribou populations can sustain, given the results of a detailed evaluation of habitat-demography relationships.

Main collaborators: Martin-Hugues St-Laurent (UQAR), Pierre Drapeau (UQÀM), Julien Mainguy (MDDEFP), Ariane Massé (MDDEFP), Sonia Légaré (MNR), Claude Dussault (MNR) et Sandra Heppell (MNR)
RESEARCH TEAM
PUBLICATIONS
Books
Book chapters
Fortin, D., Hebert, C., Legare, J.-P., Courbin, N., Swiston, K., Hodson, J., LeBlanc, M.-L., Dussault, C., Pothier, D., Ruel, J.-C. et al. (2011) Partial harvesting in old-growth boreal forests and the preservation of animal diversity from ants to woodland caribou. In Woodlands: Ecology, Management and Conservation. (Wallace, E.B., Eds.) New York, USA, Nova Science Publishers, pages 115-136
Fortin, D., Dancose, K., Courbin, N., Harvey, L., Babin, J.-S., Courant, S., Wilmshurst, J.F., Frandsen, D. (2010) The use of ecological theory to guide bison management. In European bison conservation in Białowieża Forest. Threats and prospects of the population development. (Kowalczyk, R., Ławreszuk, D. and Wojcik, J.M., Eds.) Mammal Research Institute, Polish Academy of Sciences, Białowieża, Poland., pages 201-210
Edited books, special journal editions and proceedings
Peer-reviewed articles
Articles published in proceedings
Scientific reports, manuals and others
Theses, dissertations and essays
Fortin, D. (2000) Foraging decisions at multiple spatial and temporal scales: a bison perspective. PhD thesis, University of Guelph
Fortin, D. (1995) L'environnement thermique des oisons de la grande oie des neiges (Chen caerulescens atlantica) dans l'arctique canadien. Master's thesis, Université Laval
Supervised theses, dissertations and essays
Non peer-reviewed articles
<< Élise Filotas | MembresReguliers | Richard Fournier >>