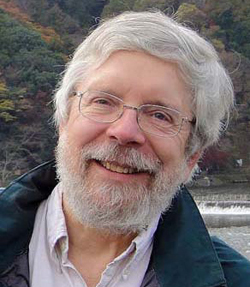 Martin J. Lechowicz
Membre (Post Retirement)
Écophysiologie
Université McGill
Department of Biology
Stewart Biology Building
1205 Docteur Penfield Avenue
Room W6/8A
Montreal, Quebec, Canada, H3A 1B1
(514) 398-6456
Page départementale

FORMATION
Ph.D. en écologie végétale, 1976 (University of Wisconsin)
M.Sc. en botanique, 1973 (University of Wisconsin)
B.Sc. en histoire et litterature (Interdisciplinary humanities), 1969 (cum laude, Michigan State University)
BIOGRAPHIE
I was born and grew up in Chicago. I have been at McGill University since 1976 with the exception of sabbatics at Cornell, the University of Washington and Kyoto University, plus a stint as a Visiting Research Scientist in a government forestry lab in Hokkaido, northern Japan. My roots at McGill are in the Department of Biology, but I am also involved with the McGill School of Environment. From 1995-2011, I was Director of the university's Gault Nature Reserve

, an old-growth forest that is the core of the Mont St. Hilaire Biosphere Reserve. I retired 31 October 2016 and we are now living on Vancouver Island. I do have a 3-year post-retirement appointment at McGill University.
THÈMES DE RECHERCHE
Ecology and Conservation of Forest Plants
My research concerns the functional basis for variation in plant performance across a range of environments, especially in forests of temperate and boreal regions in the northern hemisphere. One area concerns the comparative ecology of trees, especially how phenological, physiological and architectural traits interact to determine tree establishment, growth and susceptibility to herbivores. Some of this work is strictly ecological, but some also considers the ways that contemporary differences among species have evolved. The second area concerns the evolutionary and ecological responses of herbaceous plants to environmental heterogeneity, with a focus especially on sedges and ferns. This involves studies characterizing heterogeneity at scales from cm to thousands of km, quantifying the interacting contributions of traits to fitness, investigating the role of plasticity in stabilizing fitness across environments, and defining tradeoffs among life history components. My work on adaptation to particular environments bears on questions of niche differentiation among species within functional groups of plants and its relevance to the assembly of plant communities. Finally, I am involved in research on the design of forest corridor networks in and around greater Montreal that favor biodiversity conservation and provision of ecosystem services.
DISTINCTIONS REÇUES
PUBLICATIONS
Google Scholar

Books
Kikuzawa, K., Lechowicz, M.J. (2011) Ecology of Leaf Longevity. (Iwasa, Y., Eds.) Springer-Verlag. 147 p
Book chapters
Edited books, special journal editions and proceedings
Peer-reviewed articles
Articles published in proceedings
Bell, G., Lechowicz, M.J., Waterway, M.J. (2001) The precision of adaptation in forest plants. In Integrating ecology and evolution in a spatial context. (Silvertown, J. and Antonovics, J., Eds.) Blackwells, London
Lechowicz, M.J., St-Jacques, B. (2000) Influence of a late spring freeze on the quantity and quality of birch foliage. In Proceedings of the 2nd International Birch Sap Symposium. Bifuka, Hokkaido, Japan. Hokkaido University Press, Sapporo, pages 21-28
Scientific reports, manuals and others
Rayfield, B., Dupras, J., Francoeur, X., Dumitru, M., Dagenais, D., Vachon, J., PaquetteA., Lechowicz, M.J., Messier, C., Gonzalez, A. (2015) Les Infrastructures vertes : Un outil d'adaptation aux changements climatiques pour le Grand Montréal.
Theses, dissertations and essays
Lechowicz, M.J. (1976) Environmental response structure of Cladonia lichens from contrasting climates. PhD thesis, University of Wisconsin
Lechowicz, M.J. (1973) Comparative physiological ecology of three Cladonia lichens on the Wisconsin pine barrens. Master's thesis, University of Wisconsin
Supervised theses, dissertations and essays
Messier, J. (2009) How do leaf functional traits vary across ecological scales ? Master's thesis, McGill University
Plourde, L. (2007) Environmental niche partitioning among riparian sedges (Carex, Cyperaceae) in the St. Lawrence Valley, Quebec. Master's thesis, McGill University
Vellend, M. (1999) Environmental distribution and regeneration of four forest sedges. Master's thesis, McGill University
Non peer-reviewed articles
Lechowicz, M.J. (2007) La conquête du soleil. Quatre Temps