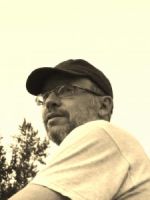 Frank Berninger
Membre associé
Écologie
Professor
Department of Environmental and Biological Sciences
Joensuu campus
University of Easter Finland
Page départementale

FORMATION
Ph.D. en écologie forestière, 1997 (Université de Helsinki, Finlande)
M.Sc. en silviculture, 1991 (Université de Helsinki, Finlande)
BIOGRAPHIE
Frank Berninger est actuellement professeur en écologie végétale à la University of Easter Finland. Il a été titulaire de la chaire de recherche du Canada en productivité forestière

jusqu'en 2010. Il a aussi été membre du réseau stratégique CRSNG sur l'aménagement forestier pour les produits ajoutés

(ForetValeur). Il a travaillé dans les écosystèmes boréaux en Finlande et tropicaux au Costa Rica. Il intègre des travaux écophysiologiques considérant la physiologie de la plante entière couplée à la productivité forestière (à travers des modèles de croissance).
THÈMES DE RECHERCHE
Interactions hydriques
Les interactions hydriques des arbres sont un de ses thèmes de recherche favoris. Un hectare de forêt transpire facilement 80 000 kg d'eau dans une journée chaude. Pour utiliser l'eau les arbres doivent la prélever du sol avec des milliers et des milliers de petites racines et la transporter aux feuilles 10-30 m plus haut. Le transport se déroule à travers un gradient de tensions d'eau (des pressions négatives) qui sont assez fortes (qui peuvent facilement atteindre moins de -10 bars). Ce n'est pas une surprise que le transport de l'eau pose des contraintes importantes à la structure de l'arbre entier. En plus la transpiration et la production photosynthétique sont liées et des réductions dans la transpiration signifient aussi des réductions dans la productivité des arbres.
Le Dr. Berninger s'intéresse aux processus permettant aux arbres de transporter de l'eau qu'ils puisent dans le sol vers les feuilles situées plusieurs mètres en hauteur. Ce transport régule la transpiration/photosynthèse et dépend de la physiologie et la morphologie des structures d'apport d'eau (racines, tronc et branches). Parce que la capacité de transporter l'eau aux feuilles et la consommation d'eau doivent être en équilibre. La façon dont les arbres maintiennent cet équilibre influence la croissance des forêts. Grâce à des modèles de croissance, il tente d'estimer les effets de différentes stratégies sur la croissance totale des arbres ou des forêts.
Variations interannuelles de la production des arbres
Le Dr. Berninger tente de comprendre d'une manière physiologique comment le climat et la productivité des arbres (mesurée par la largeur des cernes de croissance) sont liés. En effet, les variations climatiques introduisent des variations dans la production photosynthétique, le cycle des nutriments et donc la croissance des arbres. Particulièrement les températures au printemps et la longueur de la période de croissance de la végétation semblent importantes.
Le travail sur les cernes se fait principalement par des modèles de croissance, mais aussi à l'aide de mesures sur le terrain pour paramétrer les modèles et comprendre les processus impliqués.
Il utilise aussi les variations des isotopes naturels pour comprendre et interpréter les cernes de croissance. L'eau est aussi un aspect important dans ce travail, dans un projet avec Hydro-Québec en essayant de modéliser la transpiration des arbres à partir des cernes et de mieux comprendre les apports des réservoirs hydriques dans le nord du Québec.
PUBLICATIONS
Books

Invalid BibTeX File List (ChangHuiPengPub does not exists)!

Book chapters
Delagrange, S., Berninger, F. (2006) Une bouffée d'air frais. In L'écologie en ville : 25 leçons d'écologie de terrain. (Messier, C., Giraldeau, L.-A. and Beisner, B., Eds.) Montréal, QC, Canada, Fides, pages 16-23
Messier, C., Delagrange, S., Berninger, F. (2006) L'arbre comme un aqueduc: La gestion de l'eau, des racines aux feuilles. In L'écologie en ville : 25 leçons d'écologie de terrain. (Messier, C., Giraldeau, L.-A. and Beisner, B., Eds.) Montréal, QC, Canada, Fides
Edited books, special journal editions and proceedings
Peer-reviewed articles
Articles published in proceedings
Sun, J., Zhuo, X., St-Onge, B., McCaughey, H., Berninger, F., Peng, C. (2009) Carbon flux simulation and data assimilation in North America forest ecosystems. In Proceedings of the 2009 American Geophysical Union Joint Assemby.
Berninger, F., Lemieux, J., Zhai, L. (2008) Coordination of Different Phenological Events during the Growing Season.
Scientific reports, manuals and others
Schneider, R., Berninger, F., Zhang, S.Y., Ung, C.-H. (2009) Integrating a wood-quality module with a growth simulator to quantify silvicultural scenarios in jack pine plantations (Are we making the right choices?). Technical report 791, USDA Forest Service - General Technical Report PNW-GTR
Theses, dissertations and essays
Supervised theses, dissertations and essays
Non peer-reviewed articles
<< | MembresReguliers | >>