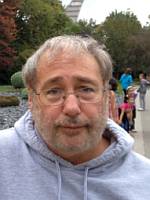 Hank A. Margolis
Ancien membre régulier
Écophysiologie / Écologie des écosystèmes / Reboisement
Earth Sciences Division, NASA Headquarters, Washington, DC.






FORMATION
Ph.D. honoris causa en Science du cycle du carbone, 2010 (U. de Lethbridge, Canada)
Ph.D. en écophysiologie et sylviculture, 1985 (Oregon State University)
M.Sc. en sylviculture, 1980 (Yale University)
B.Sc. en aménagement forestier, 1977 (Université du Vermont)
THÈMES DE RECHERCHE
Mon programme de recherche porte sur l'écophysiologie de l'arbre et des écosystèmes forestiers et vise l'application des connaissances acquises en sylviculture et en aménagement forestier. L'analyse du flux de carbone à partir de données recueillies de tours micrométéorologiques «Eddy covariance flux tower», l'utilisation d'approches d'isotopes stables ainsi que le développement de modèles globaux font partie des activités poursuivies afin de mieux comprendre l'impact des changements climatiques globaux sur ces écosystèmes. Je m'intéresse aussi à la réponse physiologique de semis forestiers aux pratiques culturales et aux stress environnementaux après plantation. Dans le passé, j'ai travaillé sur l'analyse des écosystèmes agroforestiers tropicaux.
BIOGRAPHIE
Le Dr. Margolis était professeur titulaire au Département des sciences du bois et de la forêt de l'Université Laval. Il travaillait sur l'écophysiologie forestière, les changements climatiques, les cycles du carbone et de l'eau, le reboisement, la sylviculture et la production de plants forestiers.
De 2001 à 2011, il était le directeur scientifique du réseau de recherche Fluxnet-Canada et le Programme canadien du carbone

.
La fonction principale du Programme Canadien du Carbone (2007-2011) était le développement d'un réseau scientifique visant à réduire l'incertitude liée à l'estimation du budget de carbone au Canada et en Amérique du nord à des échelles de temps mensuel et pluriannuel et ce, à travers des programmes de mesures et de modélisation.
Fluxnet-Canada (2002-2007) était un réseau national de recherche réunissant des scientifiques des milieux universitaire et gouvernemental afin d'étudier l'influence du climat et des perturbations sur le cycle du carbone dans les écosystèmes forestiers et de tourbières canadiens. Le réseau comptait environ 30 sites de recherche dans lesquels les échanges de carbone, d'eau et d'énergie entre les écosystèmes et l'atmosphère étaient mesurés de façon continue grâce à la technique de mesure de flux par covariance de turbulences. Le réseau mettait régulièrement à jour une base de données, accessible au public, sur le flux et sur les données écologiques s'y rattachant. Le travail et les résultats de ce programme de recherche ont été transmis au Programme canadien du carbone (PCC) au début de l'année 2007.
Dr. Margolis a également été le directeur scientifique pour le pôle canadien (12 universités) du projet canado-américain BOREAS (Boreal Ecosystem – Atmosphere study) de 1992 à 1997. Ce projet impliquait la NASA, le Centre canadien de télédétection, Environnement Canada et Ressources naturelles Canada. Ce projet a généré une multitude de données dont les analyses ont permis d'améliorer notre compréhension des interactions entre la forêt boréale et l'atmosphère. Selon les modèles développés, il est apparu que cet écosystème a la capacité de capter le gaz carbonique mais aussi d'en émettre, mettant ainsi en évidence la nécessité d'accroître la sensibilité des études.
Dr Margolis a aussi étudié les effets physiologiques du gel sur les plants forestiers, ce qui a conduit à la modélisation de l'impact de ces températures froides sur leur activité photosynthétique. Ces travaux ont permis de préciser la sensibilité au gel de jeunes plants d'épinette noire et de recommander des ajustements des pratiques culturales. Présentement, l'accent est mis sur la migration assistée, soit le déplacement par l'humain, des arbres vers les habitats climatiques auxquels ils sont adaptés. La migration assistée est l'un des principaux outils disponibles pour les forestiers afin d'adapter la sylviculture aux changements climatiques tout en maintenant la productivité forestière. Toutefois, ce type de programme exigent une connaissance scientifique approfondie de la façon dont l'écophysiologie d'arbres de différentes provenances s'adapte et s'acclimate au changement climatique. Des travaux précédents concernant les semis ont porté sur les effets de l'irrigation sur la production de semis d'arbres, la résistance au gel et l'influence de la température ainsi que du dioxyde de carbone sur la physiologie et la croissance des plants d'arbres.
DISTINCTIONS REÇUES
19 novembre 2012: Hank et les 150 autres auteurs de l'article «Climate control of terrestrial carbon exchange across biomes and continents» paru en 2010 dans la revue Environmental Research Letters (volume 5), ont reçu le prix international Norbert Gerbier-MUMM 2012 de l'Organisation météorologique mondiale.
8 octobre 2010: University of Letnbridge, Alberta - Honorary Degree Recipient (Honoris causa) .
Octobre 2007: Réviseur expert du rapport d'évaluation du GIEC 4, chapitre Amérique du Nord du Groupe de travail 2 (impacts et adaptation) qui a servi de base pour l'attribution du Prix Nobel de la Paix.
PUBLICATIONS
Profil Google Scholar

Livres
Chapitres de livre
Livres, numéros spéciaux et actes de colloques publiés à titre d'éditeur
Articles révisés par un comité de lecture
Articles publiés dans des actes de colloque (proceedings)
Boyer-Groulx, D., Carles, S., Lamhamedi, M.S., Beaulieu, J., Stowe, D.C., Margolis, H.A., Rainville, A., Bernier, P.Y., Bousquet, J. (2011) Réponses morpho-physiologiques des familles d'épinette blanche aux changements climatiques. In Comptes-rendus du Colloque « Production de plants forestiers au Québec: la culture de l'innovation ». Pages 107-112
Rapports scientifiques, manuels et autres
Lamhamedi, M., Rainville, A., Benomar, L., Villeneuve, I., Beaulieu, J., Bousquet, J., Margolis, H.A., DeBlois, J., Lambert, M.-C. (2017) L'écophysiologie, un atout pour réussir la migration assistée des sources génétiques d'épinette blanche. Avis de recherche forestière 89, Gouvernement du Québec, Ministère des forêts, de la faune et des parcs, Direction de la recherche forestière
Thèses, mémoires et essais
Margolis, H.A. (1985) Carbon and nitrogen allocation patterns of 2-0 Douglas-fir seedlings following nitrogen fertilization in the autumn. Thèse de doctorat, Oregon State University
Thèses, mémoires et essais supervisés
Articles non révisés par un comité de lecture
<< | MembresReguliers | >>