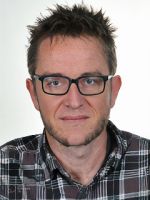 Oliver Sonnentag
Membre régulier
Biogéosciences atmosphériques en hautes latitudes
Professeur agrégé et Chaire de recherche du Canada en biogéosciences atmosphériques en hautes latitudes
Département de Géographie
Université de Montréal
C.P. 6128 Succ. Centre Ville
Montréal (Québec) Canada, H3C 3J7
FORMATION
2008 PhD degree, University of Toronto, Department of Geography and Program in Planning, Toronto, Ontario, Canada
2003 MSc GIS degree, University of Salzburg, Department of Geoinformatics/UNIGIS, Salzburg, Austria
2001 Dipl. geol. degree, Karlsruhe Institute of Technology, Department of Applied Geology, Karlsruhe, Germany
THÈMES DE RECHERCHE
Mes principaux intérêts scientifiques portent sur la compréhension des altérations dans les interactions entre la biosphère et l'atmosphère en réponse aux changements environnementaux mondiaux, utilisant des mesures par exemple : des mesures de covariance des turbulences), la télédétection (satellite et près de la surface) et les techniques de modélisation. Je suis également intéressé par la mesure locale et la cartographie (régionale, mondiale) des paramètres biophysiques pour étudier les changements dans la structure, le fonctionnement et la phénologie des écosystèmes terrestres.
DISTINCTIONS REÇUES
2022 - Membre du Collège de nouveaux chercheurs et créateurs en arts et en science de la Société royale du Canada, qui comprend les meilleurs leaders en milieu de carrière du Canada.
PUBLICATIONS
Books
Book chapters
Edited books, special journal editions and proceedings
Peer-reviewed articles
Articles published in proceedings
Scientific reports, manuals and others
Op de Beeck, M., Gielen, B., Merbold, L., Sonnentag, O. (2016) Ancillary vegetation measurements in grasslands. Technical report, Integrated Carbon Observation System Ecosystem Thematic Centre, Helsinki, Finland.
Theses, dissertations and essays
Supervised theses, dissertations and essays
Non peer-reviewed articles
<< Luc Sirois | MembresReguliers | Jeannine-Marie St-Jacques >>