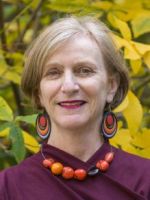 Catherine Potvin
Membre régulier
Changements climatiques, forestiere tropicale
Université McGill
Department of Biology
1205 Avenue Docteur Penfield
Montréal (Québec) Canada, H3A 1B1
(514) 398-3730
Panama
Smithsonian Tropical Research Institute
Apartado 2072
Balboa, Republica de Panama
Page départementale

| Neotropical Ecology Lab

| Google Scholar

FORMATION
Ph.D. en botanique, 1985 (Duke University)
M.Sc. en sciences biologiques, 1982 (Université de Montréal)
B.Sc. en sciences biologiques, 1981 (Université de Montréal)
THÈMES DE RECHERCHE
Over the years I have maintained scientific activities in three fairly distinct fields of research. The first is global change biology in which I have worked almost continuously since my Ph.D. at Duke University in 1985. At that time, most people doubted of the reality of climate change…This main research interest of mine is is evolving to include not only the biological side of climate change but also the socio-economical implications and policy-level aspects.
A second important area of research has been biostatistics. As an ecologist, I am convinced of the importance of appropriate analytical tools to unveil patterns observed in nature. In the last decade, however, I focused much attention on issues of biological diversity and conservation. I have a long-term collaboration with Indigenous people of Panama, especially the Embera. The work carried out by my group with them focuses on plants of traditional uses and is evolving to know consider national scale questions such as deforestation avoidance.
Global Change Biology
Effect of elevated CO2 enrichment on plant growth: Over the years I have been interested by many aspects of Global Change Biology. For many years I studied the effect of elevated CO2 on plant growth. Starting with relatively simple experiments carried out in growth chambers, I moved to the study of "intact ecosystems" using open-top chambers. This field site was located in Farnham, Southern Quebec where, between 1992 and 1996, I monitored the effect of CO2 enrichment on a pasture of southern Québec. This study showed that elevated CO2 significantly influenced the succession pattern of the pasture and maintained a higher biodiversity than would normally occur. My research approach focussed on mainly on community dynamics and contributed a unique approach to the understanding of the impact of elevated CO2.
At the same time, I examined the evolutionary potential of adaptation to elevated CO2. With a graduate student, Mlle. Denise Tousignant (now a scientist at the Ministère des Resources Naturelles-Québec), we conducted a selection experiment examining evolutionary responses to elevated CO2. After seven generations of selection, Brassica juncea failed to show any evolutionary responses to simulated global change. These results cast doubts on the allegation that weeds would be the first plants to show an adaptation to a new climatic and atmospheric environment. The evolutionary research carried out in my laboratory was expanded to look at phenotypic plasticity of coniferous tree species.
Land use, biodiversity and Carbon cycling in the Tropics: I then moved on to work on tropical systems where my research is currenlty focussing on the multiple links existing between land use, biodiversity and carbon (C) sequestration. Changes in land use are believed to account for about 30% of the increase in atmospheric CO2 over the past century. This contribution was initially caused by the conversion of boreal and temperate forests to agricultural and pasture, but over the past 80 years, tropical deforestation has dominated. In the discussions around the issue of greenhouse gas management, the opportunities for establishing significant C sinks in the Tropics through land use change have been touted, but the feasibility, mechanics and magnitude of these sinks has barely been explored. In the context of an interdisciplinary team therefore study the possible use of multi-species tree plantation to improve C storage and diversity.
Much of my research time focusses on a long-term project based in Panama and known as the Sardinilla Project (SP): Biodiversity and Ecosystem. Collectively we examine multiple aspects of C cycling in the tropics. Specific aspects of this large project are the main focus of my current NSERC operating grant: I study the importance of species identity and community richness on C accumulation as well as the impact of changes in land use from pasture to afforested landscape on C fluxes.
Traditional Plant Use and Conservation
After developping the course "Conservation Biology" at McGill, I felt the need for a reality check that brough me to Darien, the Eastern most region of Panama. There I discovered the Embera people and a completely different way to carry out scientific research. The goal of my work with Indigenous people in Panama is not first and foremost to construct knowledge. It is to use the knowledge I have of plants and plants growth in an ethically relevant way, helping these people maintain their pride and tradition while improving their livelyhood. Since 1998 support of IDRC, allowed us to work in the community of Ipeti-Embera in the Bayano region of Panama as well as in two Kuna villages, Nurna and Ukpseni.
The first phase of the project involved the re-introduction of four palm species near Emberá villages and development of sustainable management strategies for culturally important plant species in both Emberá and Kuna villages.
Then we worked at promoting and protecting traditional knowledge on medicinal plant. The project consisted of stimulating local knowledge transmission between Embera elders with a strong knowledge of medicinal plants to younger people eager to learn the tradition.
We continued working with the community of Ipeti-Embera to develop a model of community-based carbon offset project. This work was made possible by a grant from Fondo Panama-Canada through the Canadian Embassy in Panama. The idea was to examine if reforestation, under the Kyoto protocol could directly benefiting local indigenous people while helping Annex I countries, e.g. Canada, to meet the coming obligations of CO2 emission reductions. The Ipeti-carbon project, as we named it, was instrumental in helping me develop strong professional ties with the National Authority for the Environment of Panama, ANAM. Since December 2005 I am working informally as an advisor to ANAM on issues related to avoided deforestation in developing countries, an agenda item in the international negotiations under the Framework Convention of Climate Change.
Biostatistics
My work in biostatistics has been driven by necessity. At various moment in my career I felt the need to examine specific issues pertaining to data analysis. These paper all share the common goal to bring statistical problems and solutions to the attention of ecologists.
DISTINCTIONS REÇUES
Septembre 2021 - Lauréats de distinctions de la Société royale du Canada de 2021 - Médaille Sir John William Dawson pour une contribution éminente à plusieurs domaines du savoir.
Septembre 2016 - Lauréate 2016 de la Fondation Pierre Elliott Trudeau
Septembre 2015 - Membre de la Société royale du Canada. Nommée membre de l'Académie des sciences, division des sciences de la vie.
2013-2015 - Trottier Fellows (McGill)
2012 - Médaille Miroslaw Romanowski de la Société royale du Canada et Personnalités La Presse du 26 novembre 2012.
2008 - Service rendu au pays par l'Autoridad Nacional del Ambiente (Autorité nationale de l'environnement) du Panama.
PUBLICATIONS
Books
Book chapters
Edited books, special journal editions and proceedings
Potvin, C., Kraenzel, M. and Seutin, G., Eds. (2001) Roles and Responsability in the protection of biodiversity. Montreal & Kingston, London, Ithaca, McGill Queen's University Press
Cantin, D. and Potvin, C., Eds. (1996) La Conservation des forêts québécoises: Un défi pour l'an 2000. Presses de l'Université Laval, Québec
Peer-reviewed articles
Articles published in proceedings
Potvin, C., Barrios, H., Molina, N., Provost, M. (2005) Conservation of indigenous medicinal plants and associated knowledge: a case study from the Embera community of Ipeti, Panama. In Proceedings of the International Symposium Biodiversity and health. (Arnason, J.T., Catling, P.M., Small, E., Dang, P.T. and Lambert, J.D.H., Eds.) CNR press, pages 25-31
Scientific reports, manuals and others
Potvin, C., Aitken, S., Anctil, F., Bennett, E., Berkes, F., Byrne, J., Creed, I., Consolo Willox, A., Dale, A., de Lange, D. et al. (2015) Agir sur les changements climatiques au Canada : les solutions d'universitaires canadiens et canadiennes.
Sharma, D., Potvin, C. (2015) Acting on Climate Change: Extending the Dialogue Among Canadians. Technical report, Trottier Institute for Science and Public Policy
Theses, dissertations and essays
Potvin, C. (1985) Responses of two C4 grasses to CO2 enrichment and low temperature: implications for the biogeographical distribution of C4 plants. PhD thesis, Duke University
Potvin, C. (1982) Adaptation et acclimation à la température chez Arabidopsis thaliana (L.) Heynh. (Cruciferae). Master's thesis, Université de Montréal
Supervised theses, dissertations and essays
Pelletier, J. (2012) Emissions from land-cover change in Panama: uncertainty, dynamics, and perception. PhD thesis, McGill University
Guay, B. (2007) Reducing greenhouse gas emissions from deforestation : the United Nations Framework Convention on Climate Change and policy-making in Panama. Master's thesis, McGill University
Healy, C. (2007) The biodiversity-ecosystem functioning relationship : separating the effects of species richness, from those of species identity and environmental heterogeneity in a tropical tree plantation. Master's thesis, McGill University
Non peer-reviewed articles
<< David Pothier | MembresReguliers | David Rivest >>