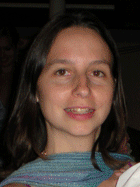 Rebecca Tittler
Professionelle de recherche / Research professional
Écologiste du paysage / Landscape ecologist
Université du Québec à Montréal
Directeurs: Christian Messier, Élise Filotas

Intérêts de recherches / Research interests
J'ai plusieurs grands intérêts scientifiques. Le premier concerne les interactions entre la biodiversité et la structure du paysage forestier, urbain, périurbain, et agricole. Je m'intéresse surtout à la nature, l'échelle spatiale, et les mécanismes derrières ces interactions. Je m'intéresse aussi à l'aménagement durable de la forêt boréale et mixte, surtout aux questions de zonage fonctionnel et à l'influence de l'interaction entre les perturbations naturels et anthropiques sur la structure du paysage aménagé. Finalement, je m'intéresse aux services écosystémiques, principalement aux services rendus par les arbres et les boisés en milieux urbains, périurbains, et forestiers.
I have several general research interests. The first concerns the interactions between biodiversity, the structure of forested landscapes, and people, both in a larger forest context and in an urban and periurban context. I am especially interested in the nature, spatial scale, and mechanisms behind these interactions. I am also interested in the sustainable management of the boreal and mixedwood forest, particularly in issues related to zoning and in the interactions between natural and anthropogenic disturbances on landscape structure. Finally, I am interested in ecosystem services provided by trees in urban, periurban, and forested landscapes and in how the provision of these services can best be reconciled with biodiversity conservation.
Projets de recherche / Research projects
L'intégration du carbone et des perturbations naturelles dans le calcul de la possibilité forestière au Québec / Integrating carbon and natural disturbances into the calculation of the annual allowable cut in Quebec
L'effets des coupes partielles sur la biodiversité et la structure du paysage à grande échelle temporelles et spatiales: à la recherche de solutions durables au niveau écologique, sociale, et économique / The effect of partial cuts on biodiversity and landscape structure at large spatial and temporal scales: searching for ecologically, socially, and economically sustainable solutions
La répartition spatiale des plantations et aires d'aménagement intensif dans la forêt boréale mixte du Québec: Comment maximiser les bénéfices sociaux, économiques et environnementaux? / The location of plantations and intensive management areas in the boreal mixedwood forest of Quebec: How to maximise the ecological, social, and economic benefits?
Comment maintenir l'habitat pour la biodiversité et les services écosystémiques fournis par les arbres en milieux urbains, periurbain, et forestier? / Reconciling habitat for biodiversity and provision of ecosystem services by trees in urban, periurban, and forest landscapes.
Formation / Education
Ph.D. en sciences biologiques / biology, 2008 (Carleton University, Ottawa, ON)
M.Sc. en sciences biologiques / biology, 1998 (University of Alberta, Edmonton, AB)
B.A. en sciences biologiques / biology, 1995 (Swarthmore College, Swarthmore, PA)
Publications


Articles publiés dans des revues avec comité de lecture / Peer-reviewed articles
Rapports et Chapitres de livres / Reports and Book Chapters
Thèse et mémoire / Theses

Tittler, R.. 2008. Questions of Scale: Source-Sink Dynamics, Dispersal, and Landscape Effects on North American Songbirds. Thèse de doctorat / Doctoral Thesis, Department of Biology, Carleton University, Ottawa, ON.
Tittler, R. 1998. Effects of residual tree retention on breeding songbirds in Alberta's Boreal mixed-wood forest. Mémoire de maîtrise / M.Sc. Thesis, Department of Biological Sciences, University of Alberta, Edmonton, AB.
Manuscrits soumis / Manuscripts submitted

Tittler, R., C. Messier. The appropriate scale for forest management in a fire-dominated landscape. Soumis à / submitted to PLOSONE in April 2016.
Autres activités professionelles / Other professional activities


Chargé de cours / Part-time Faculty, Department of Biology; Department of Geography, Planning and Environment; and Loyola College for Diversity and Sustainability, Concordia University, Montréal, QC. Cours en biodiversité, aménagement durable, et écologie / Courses in biodiversity, sustainable resource management, and ecology.
Éditrice de section / Section editor, Current Landscape Ecology Reports (Springer).
Associée au / Associate of the Loyola College for Diversity and Sustainability and the Loyola Sustainability Research Centre.