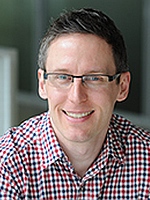 Steven W. Kembel
ancien Membre régulier
Écologie, biologie évolutive et bioinformatique
Université du Québec à Montréal
Département des sciences biologiques
C.P. 8888 Succ. Centre-Ville
Montréal (Québec) H3C 3P8
Canada

(514) 987-3000 Poste 5855

FORMATION
Research associate, Institute of Ecology & Evolution, University of Oregon, 2009-2012
Postdoctoral fellow, Department of Integrative Biology, University of California, Berkeley, 2007-2008
Ph.D., Biological Sciences, University of Alberta, 2007
M.Sc., Biological Sciences, University of Alberta, 2001
B.Sc.(Hons.), Botany, University of Manitoba, 1997
THÈMES DE RECHERCHE
Mon programme de recherche se concentre sur:
la compréhension des processus responsables de l'assemblage et l'évolution des communautés végétales et microbiennes
l'écologie fonctionnelle des feuilles et des racines des plantes
l'écologie des associations hôtes-microbes
Titulaire de la Chaire de recherche du Canada - Biodiversité et Interactions des plantes et de la vie microbienne.
Thématique : Beaucoup d'espèces microbiennes vivent sur les feuilles des plantes et jouent un rôle important dans la croissance et la fonction des plantes, ainsi que sur l'activité des écosystèmes forestiers. En regard de l'importance de la biodiversité pour la santé humaine et le développement durable de l'économie québécoise et canadienne, la Chaire tente de mieux comprendre l'écologie, l'évolution et la biodiversité ainsi que ses impacts sur la santé et la croissance des arbres. Ses recherches permettent de prévoir les interactions entre la biodiversité végétale et les écosystèmes au Québec et de proposer des avenues pour améliorer les pratiques en gestion forestière.
Mes activités de recherche actuelles incluent l'utilisation de séquençage ADN de haut débit pour comprendre la diversité et l'assemblage des communautés microbiennes et l'écologie évolutive des plantes et des bactéries dans les forêts tempérées et tropicales. Bien que j'utilise beaucoup de méthodes quantitatives et la bioinformatique dans mes recherches, je suis également un biologiste de terrain; j'ai en effet effectué des recherches dans les écosystèmes forestiers et appliqué la théorie écologique à la gestion durable des forêts boréales.
PUBLICATIONS
Profil Google Scholar

Books
Book chapters
Edited books, special journal editions and proceedings
Peer-reviewed articles
Articles published in proceedings
Mhuireach, G., Bohannan, B., Brown, G.Z., Green, J.L., Jones, E., Kembel, S.W., Kline, J., Northcutt, D., Stenson, J., Womack, A.M. (2012) The relationship between ventilation energy use and indoor microbial communities. In 10th International Conference on Healthy Buildings 2012. Pages 563-564
Scientific reports, manuals and others
Theses, dissertations and essays
Kembel, S.W. (2007) Leaf and root functional traits, phylogeny, and the structure of plant populations and communities. PhD thesis, University of Alberta
Kembel, S.W. (2001) Small-scale spatial patterns of boreal mixedwood forest vegetation. Master's thesis, University of Alberta
Supervised theses, dissertations and essays
Non peer-reviewed articles
SOFTWARE
I participate in the development of several open source software projects.
<< | MembresReguliers | >>