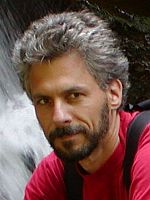 Marc-André Villard
Membre associé
Écologie animale/Conservation
Professeur associé
Université du Québec à Rimouski
Département des sciences biologiques
300 Allée des Ursulines, C. P. 3300, succ. A
Rimouski, QC, Canada, G5L 3A1
Tel : 418-723-1986 poste 1540
ResearchGate

FORMATION
Postdoctorats en biologie (Brigham Young University/University of Alberta)
Ph.D. en écologie des paysages, 1991 (Carleton University)
B.Sc. en sciences biologiques, 1986 (Université de Montréal)
THÈMES DE RECHERCHE
Réponse démographique des oiseaux à l'aménagement forestier intensif
L'exploitation forestière sous toutes ses formes s'accompagne d'une altération de la qualité des habitats à l'échelle locale (peuplement) et d'une modification de la structure des paysages. La réponse numérique de différentes espèces indicatrices est souvent mesurée, mais mes étudiants et moi nous intéressons également aux processus qui sous-tendent cette réponse à l'intensité de l'aménagement forestier. Les techniques utilisées comprennent la cartographie des territoires, le baguage et le suivi télémétrique.
Pour plus de détails:
Haché, S., Cameron, R., Villard, M.-A., Bayne, E.M. et MacLean, D.A. 2016. Demographic response of a Neotropical migrant songbird to forest management and climate change scenarios. Forest Ecology and Management 359: 309-320.
Vernouillet, A., Villard, M.-A. et Haché, S. 2014. ENSO, nest predation risk, food abundance, and male status fail to explain annual variations in the apparent survival rate of a migratory songbird. PLOS ONE 9(11): e113844.
Haché, S., Bayne, E.M. et Villard, M.-A. 2014. Post-harvest regeneration, sciurid abundance, and postfledging survival and movements in an Ovenbird population. Condor 116: 102-112.
Haché, S., Pétry, T. et Villard, M.-A. 2013. Temporal changes in the numerical response of breeding birds to experimental selection harvesting in a northern hardwood forest. Avian Conservation and Ecology 8(1): 4.
Thériault, S., Villard, M.-A. et Haché, S. 2012. Habitat selection in site-faithful ovenbirds and recruits in the absence of experimental attraction. Behavioral Ecology 23: 1289-1295.
Haché, S. et Villard, M.-A. 2010. Age-specific response of a migratory bird to an experimental alteration of its habitat. Journal of Animal Ecology 79: 897-905.
Poulin, J.-F., Villard, M.-A. et Haché, S. 2010. Short-term demographic response of the brown creeper to experimental selection harvesting. Écoscience 17: 20-27.
Connectivité fonctionnelle dans les paysages forestiers fragmentés
On présume souvent que les oiseaux peuvent coloniser et saturer l'habitat propice sans difficulté. Certaines études suggèrent en effet que les passereaux peuvent franchir des dizaines ou des centaines de kilomètres durant leur phase de dispersion (ex. Tittler et al. 2006, 2009). Or, des études expérimentales suggèrent que les oiseaux forestiers évitent de se déplacer en milieu inhospitalier (coupes à blanc, plantations de conifères), s'ils en ont le choix. Mes étudiants et moi étudions les facteurs qui peuvent influencer les décisions des oiseaux forestiers en mouvement dans différents types de paysages. Pour ce faire, nous utilisons des approches directes (baguage, télémétrie, translocations) ou indirectes (signatures isotopiques). S'il s'avère que même des organismes comme les oiseaux ne peuvent se disperser efficacement sous certaines conditions (ex. : habitat morcelé par l'aménagement forestier intensif), plusieurs autres taxons risquent aussi d'être très sensibles à la fragmentation de leur habitat. Les oiseaux se prêtent bien à un suivi intensif car ils sont relativement faciles à marquer et à relocaliser, en dépit de leur mobilité. Nous poursuivons nos travaux en ce sens afin d'identifier les structures de paysage qui permettent de maintenir une connectivité plus ou moins grande entre les populations.
Pour plus de détails:
Haché, S., Hobson, K.A., Bayne, E.M., Van Wilgenberg, S.L. et Villard, M.-A. 2014. Tracking natal dispersal in a coastal population of a migratory songbird using feather stable isotope (δ2H, δ34S) tracers. PLOS ONE 9(4): e94437.
Villard, M.-A., and Haché, S. 2012. Conifer plantations consistently act as barriers to movements in a deciduous forest bird: a translocation experiment. Biological Conservation 155: 33-37.
Haché, S., Hobson, K.A., Villard, M.-A. et Bayne, E. 2012. Considerations in assigning birds to origin using feather isotope ratios (δ2H): importance of year, age, and habitat. Canadian Journal of Zoology 90: 722-728.
Tittler, R., Villard, M.-A. et Fahrig, L. 2009. How far do songbirds disperse? Ecography 32: 1051-1061.
Fragmentation, dégradation et perte d'habitat en tant que facteurs de changement des paysages forestiers
De nombreux chercheurs ont tenté de distinguer les effets relatifs de ces trois facteurs de changement de la biodiversité. Or, ils se sont rapidement heurtés à la complexité de la tâche d'un point de vue statistique. En effet, ces phénomènes se déroulent habituellement de façon simultanée. Mon équipe de recherche se penche plutôt sur les effets de dégradation (voir aussi thème 1) et de fragmentation de l'habitat (voir aussi thème 2). Nous cherchons plus spécifiquement à mesurer l'effet de la proximité des lisières forestières ainsi que les effets possibles de la composition de la matrice du paysage (ex. : plantations de conifères) sur la densité et le succès reproducteur des oiseaux. Ces relations font entrer en jeu les réseaux trophiques impliquant les oiseaux, les prédateurs de nichées, la production de graines, les prédateurs des granivores, etc.
Pour plus de détails:
Villard, M.-A., and Metzger, J.P. 2014. Beyond the fragmentation debate: a conceptual model to predict when habitat configuration really matters. Journal of Applied Ecology 51: 309-318.
MacKay, A., Allard, M. et Villard, M.-A. 2014. Capacity of older plantations to host bird assemblages of naturally-regenerated conifer forests: a test at stand and landscape levels. Biological Conservation 170: 110-119.
Poulin, J.-F. et Villard, M.-A. 2011. Edge effect and influence of matrix on the nest survival of an old forest specialist, the Brown Creeper (Certhia americana). Landscape Ecology 26: 911-922.
Pérot, A. et Villard, M.-A. 2009. Putting density back into the habitat quality equation: a case study on an open-nesting forest bird. Conservation Biology 23: 1550-1557.
PUBLICATIONS
Books
Book chapters
Martin, J.-L., Drapeau, P., Fahrig, L., Freemark Lindsay, K., Kirk, D.A., Smith, A.C., Villard, M.-A. (2012) Birds in cultural landscapes: actual and perceived differences between northeastern North America and western Europe. (Chap. 19) In Birds and Habitat - Relationships in Changing Landscapes. (Fuller, R.J., Eds.) Cambridge, pages 481-515
Edited books, special journal editions and proceedings
Peer-reviewed articles
Articles published in proceedings
Scientific reports, manuals and others
Theses, dissertations and essays
Supervised theses, dissertations and essays
Non peer-reviewed articles