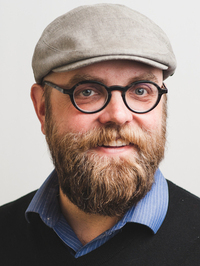 Christopher Buddle
Membre régulier
Entomologie
Université McGill
Macdonald-Stewart Building
Faculty of Agricultural and Environmental Sciences
Department of Natural Resource Sciences
21111 Lakeshore Road
Ste. Anne de Bellevue (Quebec) Canada, H9X 3V9
(514) 398-8026
Page départementale à McGill

| Blogue sur l'écologie des arthropodes

| Google Scholar

FORMATION
Postdoctorat en écologie, 2002 (Miami University)
Ph.D. en biologie environmentale et écologie, 2000 (University of Alberta)
B.Sc. en écologie, 1996 (University of Guelph)
THÈMES DE RECHERCHE
Chris Buddle travaille à McGill depuis 2002, au Département des Sciences des ressources naturelles du Campus Macdonald. Son programme de recherche est axé sur la biodiversité et l'écologie communautaire des insectes et des araignées, en mettant l'accent sur les systèmes arctiques. Il a longtemps été impliqué dans des programmes académiques et administratifs à la Faculté des sciences agricoles et environnementales, il a enseigné la biologie de terrain et l'écologie dans le cadre du Programme de biologie de l'environnement et a occupé le poste de Doyen associé (Affaires étudiantes-Associate Dean (Student Affairs)). Chris a été nommé Dean of Students à McGill, le 1er août 2016, pour un mandat de cinq ans.
Les arthropodes (incluant les insectes, les araignées et leurs proches parents) comprennent une grande part de la biodiversité connue sur la planète et contribuent grandement au fonctionnement des écosystèmes terrestres. Cependant, nous ne connaissons que très peu les mécanismes qui expliquent la grande diversité de plusieurs arthropodes terrestres, thème récurrent de mes recherches. De plus, il est important de comprendre et comment nous influençons les insectes et les araignées, lorsque nous exploitons les ressources naturelles. Une façon d'agir en conservation de la biodiversité est d'en apprendre plus sur le rôle des arthropodes dans les processus importants des écosystèmes et de comprendre les liens qui existent entre les habitats, les processus des écosystèmes et les communautés d'arthropodes.
J'ai débuté en tant qu'écologiste mais, j'ai appris beaucoup sur la qualité d'une bonne identification taxonomique durant mon doctorat sur les araignées dans la forêt boréale de l'Alberta. Une bonne écologie est basée sur une bonne taxonomie et les écologistes devraient aller jusqu'au niveau de l'identification par espèce, de plus, la valeur de l'histoire naturelle ne devrait pas être minimisée.
DISTINCTIONS REÇUES
Novembre 2006 - Récipiendaire du prix C. Gordon Hewitt de la Société d'Entomologie du Canada , pour un début de carrière (avant 40 ans) scientifique démontrant d'importantes contributions à l'entomologie au Canada.
Juin 2008 - Macdonald Campus Award for Teaching Excellence
PUBLICATIONS
Profil Google Scholar

Livres
Spicer Rice, E., Buddle, C.M. (2018) Dr Eleanor's Book of Common Spiders. University of Chicago Press
Chapitres de livre
Ernst, C.M., Vinke, K., Giberson, D., Buddle, C.M. (2013) Insects in education: creating tolerance for some of the world's smallest citizens. In The Management of Insects in Recreation and Tourism. (Lemelin, R.H., Eds.) Cambridge University Press, pages 289-305
Cady, A.B., Buddle, C.M. (2007) Spider Predators. In Handbook of Forage and Rangeland Insects. (Lamp, W.O., Berberet, R.C., Higley, L.G. and Baird, C.R., Eds.) Lanham, MD, USA, Entomological Society of America & APS Press, pages 138-142
Marshall, S.A., Buddle, C.M., Sinclair, B.J., Buckle, D.J. (2001) Spiders, flies and some other arthropods of the Fathom Five Islands and the upper Bruce Peninsula. In Ecology, culture, and conservation of a protected area: Fathom Five National Marine Park, Canada. (Parker, S. and Munawar, M., Eds.) Leiden, The Netherlands, Backhuys Publishers, pages 191-229
Livres, numéros spéciaux et actes de colloques publiés à titre d'éditeur
Articles révisés par un comité de lecture
Articles publiés dans des actes de colloque (proceedings)
Anthony, S.E., Buddle, C.M., Hoye, T.T., Hein, N., Beckers, N., Sinclair, B.J. (2018) Thermal limits of spiders, mites, and pseudoscorpions from Arctic and temperate habitats.
Rapports scientifiques, manuels et autres
Thèses, mémoires et essais
Buddle, C.M. (2000) Spider communities in boreal mixed-wood forests: succession, species interactions and habitat utilization. Thèse de doctorat, Department of Biological Sciences, University of Alberta, Edmonton, Alberta.
Thèses, mémoires et essais supervisés
Articles non révisés par un comité de lecture
Buddle, C.M. (2009) Bylot Island and the Northern Biodiversity Program: ongoing studies about arctic entomology and arachnology. Newsletter of the Biological Survey of Canada, 28(1):63-65
Buddle, C.M. (2005) Monitoring biodiversity close to home: collecting generalist arthropod predators from McGill University's research forests. Arthropods of Canadian Forests, 1:3-7
Buddle, C.M. (2005) A primer on pseudoscorpions and taxonomic status in Canada. Newsletter of the Biological Survey of Canada (Terrestrial Arthropods), 24(1):12-16
<< Robert L. Bradley | MembresReguliers | Nicolas Bélanger >>