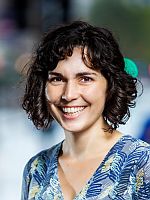 Carly Ziter
Regular member
Urban Ecology and Tree Biodiversity
Research Chair in Urban Ecology and Sustainability
Carly grew up in southern Ontario, in a house surrounded by fields (usually corn, sometimes soy) punctuated by small woodlots. In her mind, this mix of farmland, housing, and forest wasn't an "ecosystem"; it was just where she walked the dog. Now, she realizes that these human-dominated landscapes are hard at work providing a multitude of ecosystem services we rely on, and she's fascinated by how we can manage these areas better. When she's not busy researching the intersection of landscape structure, biodiversity, and ecosystem services, Carly can be found enjoying the great outdoors, knitting, or supervising shifts at her community pottery studio.
TRAINING
Ph.D. (2014-2018) - University of Wisconsin-Madison
M.Sc. (2011-2013) McGill University
B.Sc. (2007-2011) University of Guelph
RESEARCH THEMES
My research program centers on the ecosystem services concept as a lens through which to ask ecological questions related to sustainability, policy and practice. Within this framework, I use field observation/experiments, satellite and sensor data, and synthesis approaches to address basic and applied research questions across spatial and temporal scales. I am a strong proponent of community-engaged science, and much of my research relies upon partnerships with landowners and managers, community groups, local governments, and planners. My research falls primarily into four themes, encompassing the understanding of: (1) spatial and temporal drivers of ecosystem services; 2) patterns and drivers of biodiversity across the landscape; 3) urban forest resilience; 4) the intersection of built and ecological infrastructure.
Citizen Science : NDG Community Tree Inventory
Urban trees are a key contributor to local biodiversity and provide many valuable benefits to our communities, like reducing hot summer temperatures, providing recreational spaces and improving air quality. We generally have a strong understanding of the composition of trees on public land located in parks and along streets, but have very little information on trees on private land. Our new community science project provides a unique opportunity for residents to learn more about trees in their own backyards, while helping to improve our overall understanding of Montreal's urban forest!
To participate as an Notre-Dame-de-Grâce (NDG) resident, or for more information: https://www.carlyziter.com/montreal-tree-project.html

PUBLICATIONS
Google Scholar

Books
Miller, J.E.D., Ziter, C.D., Koontz, M.J. (2021) Fieldwork in landscape ecology. 219-229 p
Book chapters
Edited books, special journal editions and proceedings
Peer-reviewed articles
Articles published in proceedings
Scientific reports, manuals and others
Theses, dissertations and essays
Supervised theses, dissertations and essays
Non peer-reviewed articles