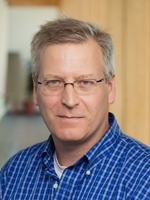 Louis Imbeau
Regular member
Animal ecology
Doyen à la recherche et à la création
Université du Québec en Abitibi-Témiscamingue
Institut de Recherche sur les Forêts (IRF, local A-204.3)
445, boul. de l'Université
Rouyn-Noranda (Québec) Canada, J9X 5E4
(819) 762-0971 poste 8335
Page départementale à l'UQAT

| Chaire AFD

| ResearchGate

| Google Scholar

| ORCID

FORMATION
Post-doctorat en aménagement forestier durable, 2002 (Groupe de Recherche en Écologie Forestière interuniversitaire (GREFi) à l'Université du Québec à Montréal)
Ph.D. en sciences forestières (Université Laval 2001)
M.Sc. en ressources renouvelables (UQAC 1996)
B.Sc. en biologie (UQAC 1994)
BIOGRAPHY
Louis Imbeau earned his Bachelor in Biology in 1994 and his M.Sc. in Renewable Resources in 1996 both at Université du Québec à Chicoutimi (UQAC). He also obtained his Ph.D. in Forest Science in 2001 from Université Laval. Before joining UQAT as a professor in wildlife management in 2002, he completed his postdoctoral training at the Interuniversity Forest Ecology Research Group (GREFi) at UQAM. Regular member of the Center of Forest Research (CFR), he was also a member of the executive committee of this research center from its foundation in 2006 to 2012. From 2005 to 2012, he was a member of the scientific committee mandated to revise the northern limit of commercial timber allocation in Québec. Dr. Imbeau main interests were first linked to the avifauna of boreal forests. He worked on the comparison of species assemblage along a chronosequence of black spruce stands following fires and clear-cut logging. The identification of species sensitive to the cumulative effects of forest management in Eastern Canada as well as in Fennoscandia led his recent work towards documenting the importance of old growth forests, availability of tree cavities as well as dead wood recruitment for various species, from woodpeckers to small mammals. His research interests include the influence of timber harvest in boreal forest on bird and small mammal assemblages, as well as on game animals. The current context of diversification of silvicultural practices led Dr. Imbeau to work on the evaluation of the potential positive impacts of new approaches in timber harvest, such as partial cuts, on fauna.
RESEARCH THEMES
Importance of snag, tree cavities as well as coarse woody debris recruitment for the boreal fauna (e.g. woodpeckers and other secondary hole-users, various small mammals including the northern flying squirrel).
Diversification in timber harvest methods in boreal forests: evaluation of advantages and disadvantages for game animals.
Evaluation and attenuation of the impacts of intensive silvicultural approaches on wild birds and game animals.
PUBLICATIONS
Profil Google Scholar

Books
Book chapters
Edited books, special journal editions and proceedings
Peer-reviewed articles
Articles published in proceedings
Drapeau, P., Leduc, A., Kneeshaw, D.D., Gauthier, S., Bergeron, Y., Imbeau, L. (2010) Paramètres de suivi de l'aménagement écosystémique en forêt boréale. In Biodiversité, naturalité et humanité pour inspirer la gestion des forêts. (Vallauri, D., Andre, J., Genot, J.-C., De Palma, J.-P. and Eynard-Machet, R., Eds.) Tec & Doc
Menard, S., Darveau, M., Imbeau, L. (2006) Forest inventory maps: A useful tool for a wetland habitat classification and regionalization in Quebec's forests. In Eastern CANUSA conference: Forest science across the borders.. Pages 106-110
Scientific reports, manuals and others
Theses, dissertations and essays
Imbeau, L. (2001) Effets a court et a long terme de l'aménagement forestier sur l'avifaune de la forêt boréale et une de ses espèces-clés: Le pic tridactyle. PhD thesis, Université Laval
Imbeau, L. (1996) Comparaison et suivi des communautés d'oiseaux nicheurs dans des pessières noires boréales issues de coupes et de feux. Master's thesis, Université du Québec à Chicoutimi
Supervised theses, dissertations and essays
Non peer-reviewed articles
<< Jacques Ibarzabal | MembresReguliers | Sylvain Jutras >>