For more information, contact David Paré or Paul Hazlett

North American Forest Soils Conference - International Symposium on Forest Soils
Conférence nord-américaine sur les sols forestiers - Symposium international sur les sols forestiers
Joint conference sponsored by the SSSA

, CSSS

, IUSS

and IUFRO

June 10-16, 2018, Quebec City, Quebec, Canada.
Conference Theme
Soils-Forests Interactions in Changing Environments
The 13th North American Forest Soils Conference is being held jointly with the 9th International Symposium on Forest Soils in the UNESCO World Cultural Heritage Site of the Historic District of Old Québec in the spring of 2018. We cordially invite you to consider participating in this conference.
We invite presentations on research using field trials, laboratory investigations, long-term monitoring experiments and ecosystem modelling studies that address the conference theme and sub-themes. If possible, presentations should include a statement of the forest management implications of the work. The conference sub-themes are intended to encourage submissions with broad representation of the various soils-forests regions of North America and internationally.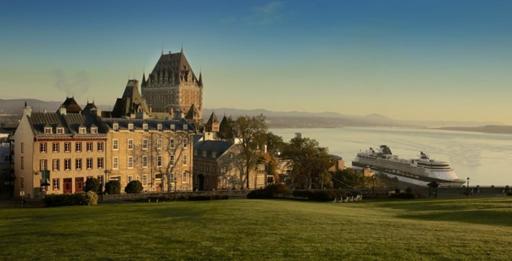 Copyright and credit François Gamache
Thematic Sessions
The role of forests and forest soils in climate change adaptation and mitigation
This session will examine forest C and nutrient cycling and soil C sequestration under a changing climate. Research focused on the response of soil processes on upland and wetland forests to climate change and best management practices to protect soil carbon stocks will be included in this session.
Fire effects on forest soils
This session will examine fire effects on soil processes and the consequences of changing fire regimes on forest soils. Research evaluating how changes in soil processes due to fire impacts affects vegetation communities, carbon and nutrient cycling, and water quality will be included in this session.
Management practices, land-use change and soil-forest productivity
This session will examine the effects of forest management and changing land cover type on soil productivity and biodiversity. Research focusing on intensive biomass harvesting, land reclamation and evaluating site sensitivity to soil degradation will be included in this session.
Technological advances in forest soils research
This session will examine how new emerging technologies have made a difference in the management of forests and forest soils. Advances in research methods from the molecular (soil microbiome, DNA extractions, qPCR) to the landscape (remote sensing, LIDAR, digital soil mapping) level will be included in this session.
Forest soil monitoring networks and environmental change: successes and challenges
This session will examine the design, implementation and results from national, regional and local forest soil monitoring programs. Soil resampling protocols, methodological issues and the significance of these networks in the monitoring of soil under large-scale environmental change will be included in this session.
Societal change and forest soils: a balancing act
This session will examine the challenge of balancing the changing expectations of society with scientific knowledge to form policies, regulations and practices for sustainable forest soil management. Changes in forest soil science research emphasis, such as development of soil health indicators and quantification of ecosystem services, will be highlighted. Communication and outreach strategies that translate research results into science policy that meet current and future needs will be included in this session.
Keynotes
Dan Binkley
Conference Opening Keynote
Mark Johnston
Session Keynote
The role of forests and forest soils in climate change adaptation and mitigation
Thomas DeLuca
Session Keynote
Fire effects on forest soils
Cindy Prescott
Session Keynote
Management practices, land-use change and soil-forest productivity
Nathan Basiliko
Session Keynote
Technological advances in forest soils research
Bruno De Vos
Session Keynote
Forest soil monitoring networks and environmental change: successes and challenges
Ellen Bergfeld
Session Keynote
Societal change and forest soils: a balancing act
Peter Clinton
Conference Closing Keynote
Field Visit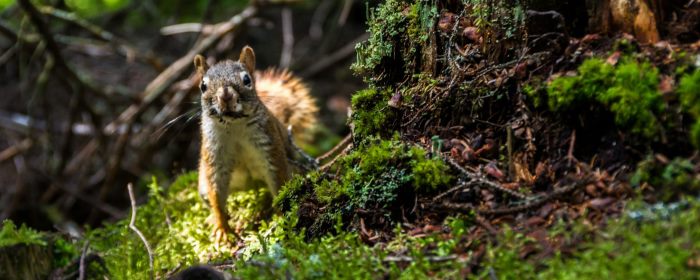 Source: Forêt Montmorency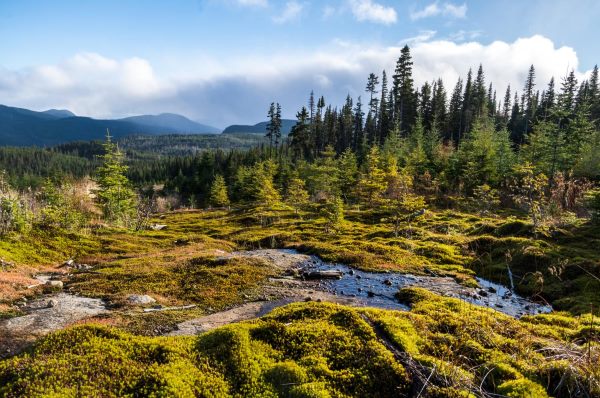 Source: Forêt Montmorency
Copyright and credit: J. Robert (Sépaq)
The Quebec City region has a lot to offer in terms of ecological diversity. It is the meeting place of three geological formations (The Appalachian, the St-Lawrence Lowlands and the Laurentians), it is where the saltwater meets the fresh water in the St-Lawrence estuary; it is where the Northern hardwood biome meets the boreal forest. The one day field visit will take you through various ecosystems and the visit will highlight soil type and ecosystem management as well as forest research and will include a visit of the boreal forest of University Laval Montmorency Forest one of the largest teaching and research forests in the world.
Banquet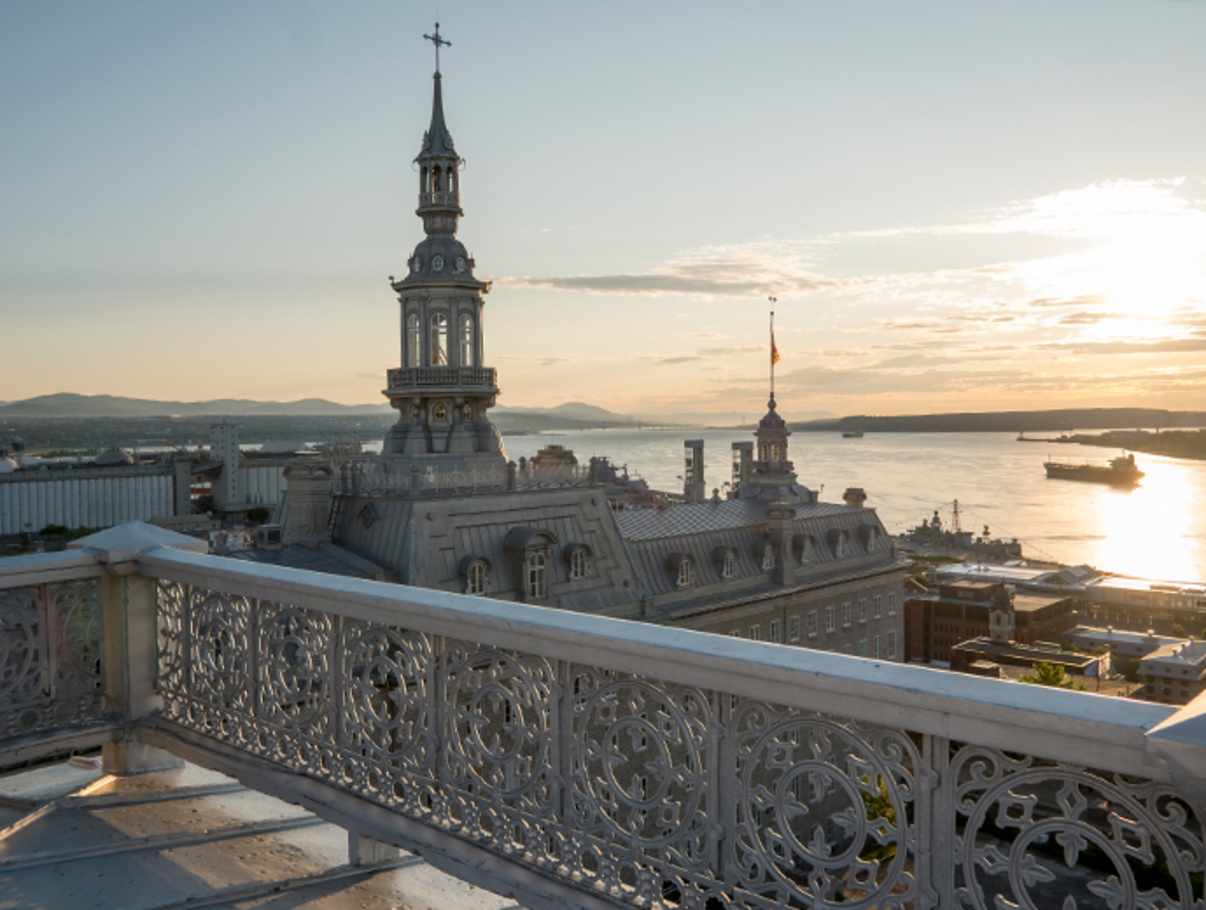 Copyright and credit L-A Couturier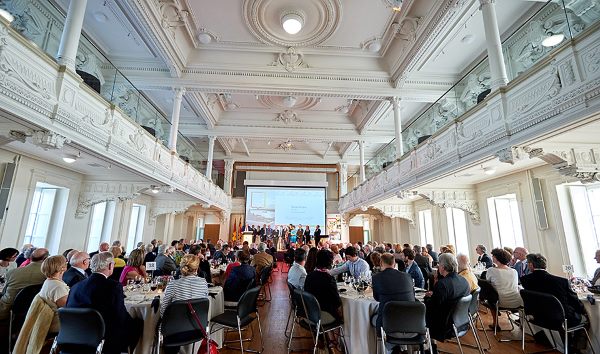 Source: Decorum Quebec
The banquet will take place in the Séminaire de Québec in the old town, at a walking distance from Hôtel Château Laurier. The Séminaire (seminary) was founded in 1663, making it the oldest post-secondary institution in Canada. It gained university status and the power to award degrees by royal charter issued by Queen Victoria in 1852 to become Université Laval. The current building was built in the 1850s. https://www.salledespromotions.com/

Optional Post-conference Tour
The post-conference tour will take you to the Charlevoix region, recognized by UNESCO as a Biosphere Reserve and hosting the 2018 G-7 meeting. The landscape, extending from an elevation of 5 to 1,150 meters above sea level, includes a wide range of ecosystem and soil types ranging from the estuarine tidal flats to mountain tundra and providing spectacular landscapes. The tour will provide an opportunity to appreciate how the climate and the complex geological and geomorphological history of the region (including a large meteor crater, deposits from the Goldthwait sea, major landslides, etc. ) has shaped the ecosystems, the development of the land, and has defined the challenges that lie ahead for the sustainable development of this region in the face of climate change.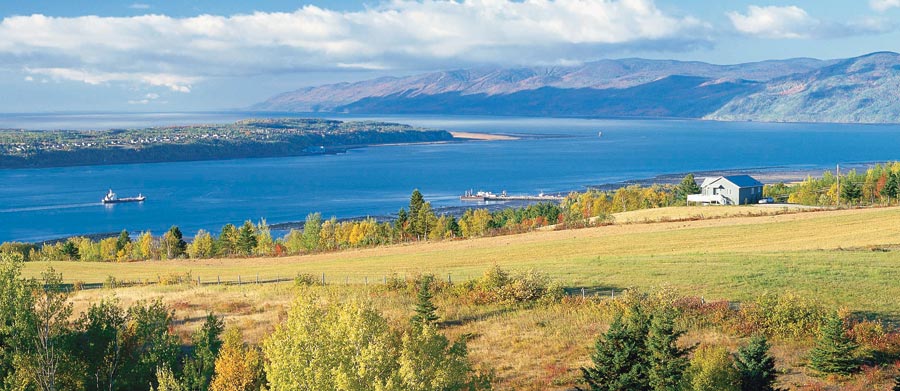 The beautiful Charlevoix region
Copyright and credit J-F Bergeron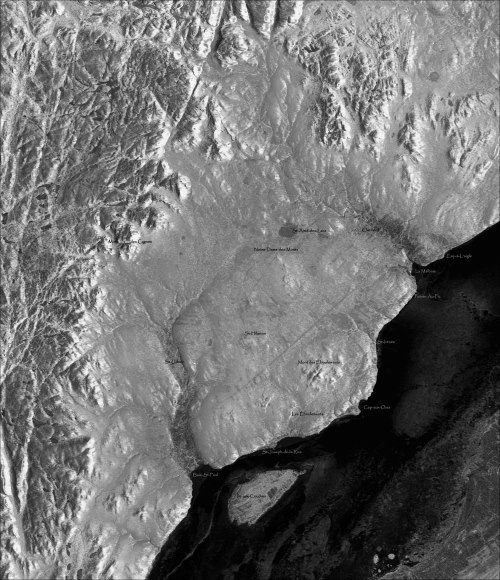 The Charlevoix Astroblem
Source: Wikipedia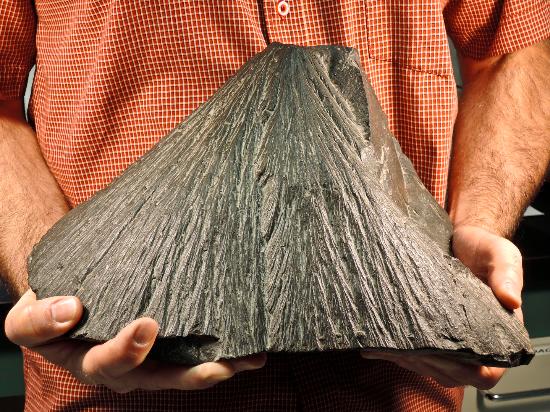 Many shatter cones were found in the area
Source: Wikipedia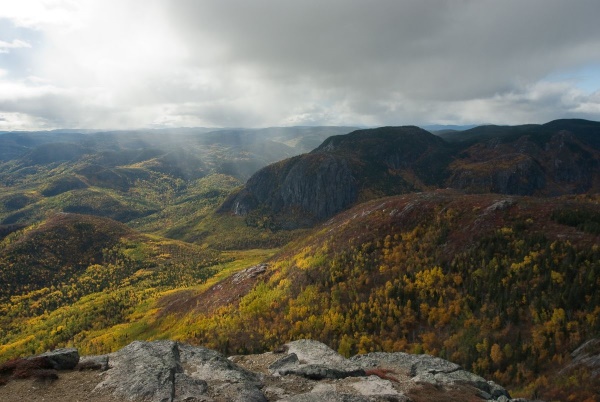 Grands-Jardins National Park
Source: Wikipedia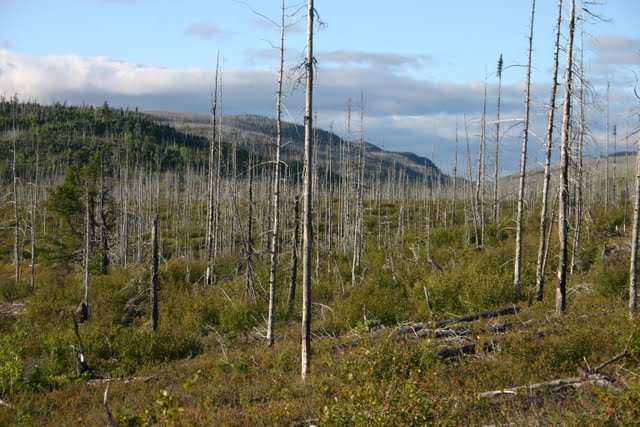 Trees killed by a wildfire at Grands-Jardins
Source: Wikipedia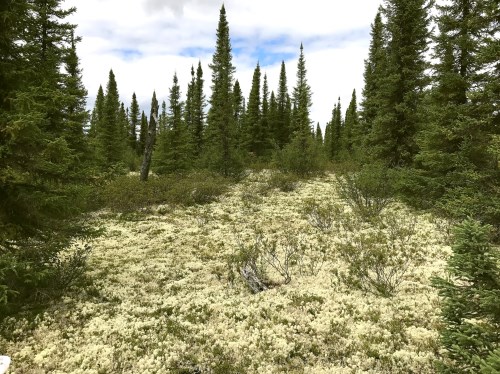 Open lichen woodland
Source: Libellule Québec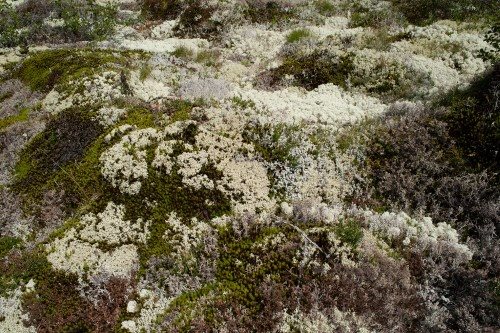 Bryophyte cover
Source: lightbrigade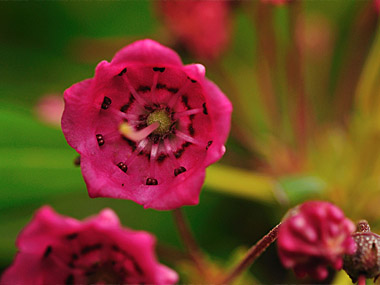 Sheep laurel
(Kalmia angustifolia)
Source: Wikipedia
Venue/Transport
Hôtel Château Laurier is ideally located in the heart of the city, on Parliament Hill, nestled between the Plains of Abraham, a vast urban park, the lively Grande Allée street and the old city.
This amazing sector is recognized as a UNESCO world heritage site since 1985 and is the birthplace of the French civilisation of North America. To this day, Québec is the only city where the fortification wall remains intact since the 17th century.
Directions
From the airport - The airport is only a 35-minute drive from the Jean-Lesage International Airport (YQB). Since there is no shuttle service between the airport and Downtown Quebec City, we recommend that you take a taxi available at the airport exit. The fare is set at $34.25.
From the train station or bus terminal - It is only a 10-minute drive from Gare du Palais, in the Saint-Roch district. There are a few taxis available at the station, if you wish - the fare will be around $10.00. You can also use the city bus service provided by the Réseau de transport de la Capitale - a ticket fare is set à $3.25. You can take the 800 itinerary (toward Pointe-Sainte-Foy) and getting out at stop 1517 (Colline parlementaire), followed by a 10-minute walk in almost a straight line from Louis-Alexandre Taschereau street to George-V Place.
By car - Use the directions toward Colline parlementaire and Place George-V to get nearby the Hotel. There, you can use the establishment's indoor parking. The average daily cost is $20 (unlimited in/out access) plus applicable taxes.
Accommodation
Hôtel Château Laurier

is the conference site. Please consider booking your room at this hôtel to help the conference. A block of room has been reserved for the conference. The bulk of reserved rooms are standard two double bed room "la Classique" at a rate of 159$ (can); other rooms are also available L'Express* (144$), La Classique (159)$, L'Ultra* (174$), La Comtemporaine (189$) and La Luxueuse* (249$)"; the ones marked with an asterisk do not have two beds. For reservation: phone 1-800-463-4453; Fax : 418-524-8768 or email to reservation@vieuxquebec.com. Cancelation policy: Client must notice before 4PM the date prior to the arrival. In case that this policy is not respected the first night will be billed. Please use confirmation number 16681.
Residences of University Laval

, located 15 minutes by bus from the conference site.
Book early!
Travel Information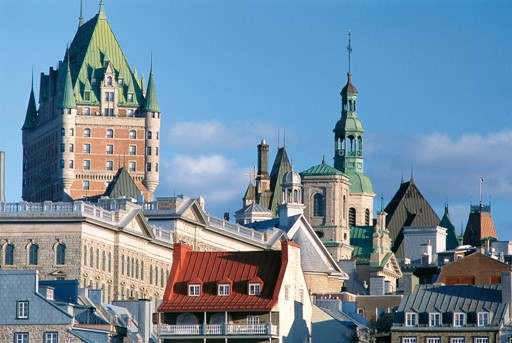 Copyright and credit Claudel Huot
About Québec City
Québec City is 400 years old. It boasts four centuries of history during which Québec has grown into the city we know and love, forging a character all its own built around a thriving culture, economic success, urban transformation, neighborhood life, and the French language. Getting to Québec City
By plane - Jean-Lesage International Airport, 16 km (10 miles) away from downtown Québec City. Direct flights from many major cities in Canada, Eastern US, and Europe are provided to Québec City such as Montreal, Ottawa, Toronto, New York, Chicago and Paris.
By car - Highway 20 (autouroute Jean-Lesage) runs along the south shore of the St. Lawrence River, and Highway 40 (autoroute Félix-Leclerc) is the north shore access to the city.
By bus - You will be able to get to Québec City using Québec's main transportation companies : Intercar, Orléans Express or Greyhound. There are two bus terminals in the city, Gare du Palais (Saint-Roch) and Terminus Sainte-Foy.
By train - You can use passenger train to get to Québec City, through VIA Rail. There are two train stations in the city, one in Sainte-Foy, and another in Saint-Roch (Gare du Palais).
For more information about getting to Québec City, you can use the Québec Region Tourism's Office detailed roundup. Getting Around Québec City By bus - Réseau de transport de la Capitale More Information
Registration and Fees
You can register online until June 10 unless the meeting facility capacity has been reached. You can only pay by credit card.
Meeting Registration
Early registration rates
Before Friday, April 13th, 2018
Standard registration rates
After Friday, April 13th, 2018
Regular
CDN$ 710.00
CDN$ 850.00
Student (Undergraduate, MSc and PhD)
CDN$ 425.00
CDN$ 575.00
Companion (Banquet and field excursion)
CDN$ 175.00
CDN$ 175.00
Meeting Registration includes all fees:
applicable taxes and credit card fees,
light breakfast and lunch each day of the conference,
Sunday evening Icebreaker,
Tuesday full day field excursion,
Wednesday banquet in the Vieux-Québec,
beverages, fruits and snacks during all the conference.
Not included:
The post-conference tour is not included and must be purchased separately.
Companion registration includes only the full day field excursion on Tuesday, June 12 and the banquet on Wednesday, June 13.
Post-conference tour Registration

Until capacity is reached (50 participants)

All
CDN$ 280.00
Post-conference tour departure will be at 8:00 am from the Chateau Laurier on Friday, June 15th. We will return at 5 PM Saturday, June 16th. Transportation, meals, accommodation are included. We will sleep at the Port-au-Saumon ecological centre. Some rooms will have to be shared. All applicable taxes and credit card charges are included.
Contact/organizers
Scientific Committee
Paul Hazlett (paul.hazlett@canada.ca); David Paré (david.pare@canada.ca); Randall Kolka; Jennifer Knoepp; Andy Scott; Brian Strahm; Charles C Rhoades; Dave Morris; Debbie Dumroese; Jeff Hatten; Jana Compton; Ken Van Rees; Mark Kimsey; Larry Morris; Mary Adams; Michael SanClements; Chandra Neils; Rich Bowden; Stephen Schoenholtz; Tom Fox; Eric Sucre; Jim Boyle; Chris E Johnson; Zhihong Xu.
Local Organization Committee
David Paré, Paul Hazlett, Evelyne Thiffault, Rock Ouimet, Sébastien Dagnault and Jérôme Laganière - Program (scientific, field visit, social events).
Student Travel Scholarships
Due to the generous support of the Soil Science Society of America, Weyerhaeuser and the Ontario Ministry of Natural Resources and Forestry we are able to provide scholarships to students who will be making a presentation at the conference. To be eligible you must have submitted an abstract at the conference website before 5 PM Monday, February 5, 2018. To apply for a scholarship please submit a CV and a letter of interest of <500 words to paul.hazlett@canada.ca by March 15, 2018. The letter should state your interest in forest soils in general and your reason for attending the North American Forest Soils Conference - International Symposium on Forest Soils. Applications will be reviewed by the NAFSC-ISFS 2018 Scholarship Committee and successful students will be advised by April 1, 2018. Scholarship funds will be awarded at the conference.
Preliminary Conference Schedule
Sunday
June 10
Monday
June 11
Tuesday
June 12
Wednesday
June 13
Thursday
June 14
Friday
June 15
Saturday
June 16
8h00



Plenary
session
Field
excursion
Plenary
session
Plenary
session
Post
conference
tour
Post
conference
tour
12h00
Lunch
Lunch
Lunch
13h00



Plenary
session
Plenary
session
Plenary
session
18h00



Ice breaker
Free time
Free time
Banquet