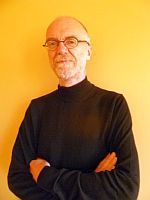 Louis Bernier
Regular member
Forest Pathology
Université Laval
Faculté de foresterie, de géographie et de géomatique
Département des sciences du bois et de la forêt Pavillon Charles-Eugène Marchand, local 2263
1030 avenue de la Médecine
Québec (Québec) Canada, G1V 0A6
(418) 656-7655
WELCOME TO THE FOREST PATHOLOGY LABORATORY WEB PAGE

ACADEMIC BACKGROUND
NSERC Postdoctoral Studies, Microbial genetics, 1989 (Université Laval)
FCAR Postdoctoral Studies, Molecular biology of fungi, 1988-89 (University of Bath, UK)
Ph.D. Forest pathology, 1989 (University of Toronto)
M.Sc. Forest Sciences, 1983 (University of Toronto)
B.Sc. Forest Sciences, 1981 (Université Laval)
Phytopathological News

2018
Presentations and guest lectures: Louis Bernier was invited to present the team's work on Ophiostoma novo-ulmi in South Korea (Dankook University) and Sweden (Alnarp campus of the Swedish Agricultural University). He also presented at the International Congress of Plant Pathology(ICPP2018) in Boston, and at the LIFE+ ELMIAS Ash and Elm conference in Sweden.

Earlier during the year, Thais Campos de Oliveira and Jérôme Chapuis presented their work on the functional genomics of O. novo-ulmi at the 2018 Annual Meeting of CFR .
New team members: Three persons joined the team so far this year. Undergraduate student Marie Bourgault investigates yeast-mycelium dimorphism in the Dutch elm disease fungi. Dr Jorge Luis Sarmiento Villamil is looking at the functional genomics of pathogenicity of DED fungi. Louis Paré started a Master's research project on endomycorrhizal fungi.
2017
RESEARCH INTERESTS
Research carried out in my group focuses on the study of tree pathogenic fungi and fungal saprobes of wood and wood products. We use a variety of experimental approaches from the fields of phytopathology, molecular biology and genomics. Globally, members of my group work on the following topics:
identification and characterization of microorganisms associated with poorly documented diseases;
study of population structure and dynamics of pathogens;
identification of genes contributing to pathogenicity and fitness.
A feature on this topic appeared recently in International Innovation.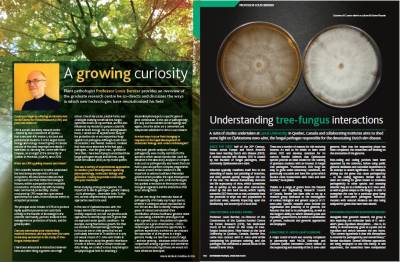 RECENT RESEARCH ACTIVITIES
Over the years, we have investigated several species of tree pathogenic fungi, as well as saprobic fungi associated with either sapstain or decay. Here is a summary of ongoing research projects.
Identification of fungi associated with disease and decay of trees in Gabon and Cameroon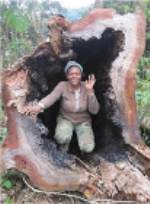 Within the context of a large-scale research and training project for countries in the Congo River basin, led by Prof. Damase Khasa at Université Laval (Projet d'appui à la formation en gestion des ressources naturelles dans le bassin du Congo

), we are studying fungi that cause disease or decay in tree species endemic in Central Africa. Ph.D. candidate Inès Nelly Moussavou Boussougou uses rDNA sequence data for identifying fungi that cause stem decay and root rot in three Gabonese tree species with a high commercial value, namely Desbordia glaucescens, Scyphocephalium ochocoa and Paraberlinia bifoliata. Joseph Djeugap Fovo, who successfully defended his Ph.D. thesis in June 2013, used the same approach and conducted Koch's postulates for identifying fungal pathogens of Ricinodendron heudelotii, a species with strong potential for agroforestry in Cameroon. Drs Jean A. Bérubé (Canadian Forest service) and Daniel Dostaler (U. Laval, Dép. Phytologie) were close collaborators in these projects.
Study of fungal pathogens of hybrid poplars
Due to their rapid growth under local climatic conditions, hybrid poplars are a promising source of fiber for the North American forest industry, including companies in Quebec (more info at Réseau intégré Ligniculture-Québec

). Tree breeders at the Quebec Ministry of Natural Resources have already produced a comprehensive collection of hybrid poplar clones that are adapted to different bioclamitic zones within the province. This material is also bred for resistance against diseases, notably Septoria canker caused by the ascomycete fungus Mycosphaerella populorum, and poplar leaf rust cause by basidiomycete fungi belonging to the genus Melampsora. In order to achieve durable resistance, it is important to identify factors that govern pathogenicity and virulence in the fungi, and resistance in their hosts. Lauriane Varain, who obtained her Master's degree in June 2013, worked on the development of an Agrobacterium tumefaciens-based system for the genetic transformation of M. populorum. The ultimate goal of the project is to facilitate the production of mutants that will help investigate the molecular bases of pathogenicity and virulence in M. populorum. Ph. D. candidate Marine Vautier is using genomic and transcriptomic approaches for investigating defense mechanisms of hybrid poplar against M. populorum and Melampsora spp. These collaborative studies are conducted in the laboratories of Drs. Philippe Tanguay and Armand Séguin at the Canadian Forest Service.
Genomics of the Dutch elm disease fungi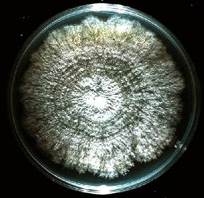 Elm populations in Europe and North America were decimated by two successive pandemics of Dutch elm disease (DED). The more recent pandemic, caused by the ascomycete fungus Ophiostoma novo-ulmi, has killed an estimated 1 billion trees. While the DED cycle is well known (the pathogen invades xylem vessels after it has been introduced into healthy trees by elm bark beetles), the actual mechanisms by which O. novo-ulmi kills its host remain unknown. The identification of factors contributing to parasitic fitness (including pathogenicity) is important for the development of long-term control strategies against DED. We use a combination of genetic, molecular and genome-wide approaches in our investigations of the 8640 genes annotated in the O. novo-ulmi genome

. Ongoing work includes identification of genes that modulate pathogenicity, as well as the molecular bases of yeast-mycelium dimorphism in O. novo-ulmi, in order to test the hypothesis that the transition between these two growth forms contributes to parasitic fitness. Studies by members of the team should provide new insight on this aspect of O. novo-ulmi biology.
We are actively involved in the BioSAFE

project and are also collaborating with colleagues at the University of Guelph and the Universidad Politécnica de Madrid in studies of the response to infection by O. novo-ulmi.
TEAM MEMBERS, 2010-2013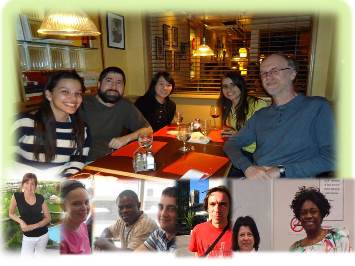 AWARDS
2002 Gordon J. Green Outstanding Young Scientist Award, Canadian Society of Plant Pathology
2008 Hommage René-Pomerleau "Pionnier et Force vive de la pathologie forestière et moléculaire", Quebec Society for the Protection of Plants
PUBLICATIONS
Profil Google Scholar

Books
Book chapters
Edited books, special journal editions and proceedings
Peer-reviewed articles
Articles published in proceedings
Scientific reports, manuals and others
Theses, dissertations and essays
Bernier, L. (1989) Induction, characterization and mapping of mutations in Ophiostoma ulmi, the causal agent of Dutch elm disease. PhD thesis, Faculty of Forestry, University of Toronto
Bernier, L. (1983) Relationships between isoenzymes, cultural characters, and pathogenicity in Ceratocystis ulmi (Buism.) C. Moreau. Master's thesis, Faculty of Forestry, University of Toronto
Supervised theses, dissertations and essays
Non peer-reviewed articles
Cogliastro, A., Bouchard, A., Domon, G., Bernier, L. (2008) Les hauts et les bas de la forêt feuillue : sommes-nous prêts pour un nouveau changement de paysage? Options politiques, 29:58-61
<< Yves Bergeron | MembresReguliers | Olivier Blarquez >>