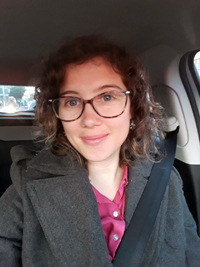 Carla Carolina Ramos do Nascimento Moraes
Master
Effect of tamarack (Larix laricina) on the quality of peat soils in northwestern Quebec
Université du Québec en Abitibi-Témiscamingue
Director: Yves Bergeron
Codirector: Alain Leduc, Nicolas Bélanger
Biography
Forest engineer in Brazil, worked with environmental licensing and management. She is currently completing her master's degree in ecology at UQAT. Her research project focuses on the influence of tamarack (Larix laricina) on nutrients and the flux of CO2 and CH4 of peat soils in mixed stands with black spruce (Picea mariana) in boreal forests of northwestern Quebec.
Publication
• Moraes C C R N. Prinptemps 2021. Les changements climatiques sous nos pieds. Article de vulgarisation scientifique. Le couvert boréal, 30.
Professional experience | Education
Forest engineering - Agrotexas Ambiental – São Paulo, SP, Brazil. 2013-2016.
Environmental analyst - Medral Geotecnologias e Meio Ambiente – Analyste environnemental - São Paulo, SP, Brazil. 2012-2013.
Forest engineering intern - Esphera Ambiental - São Paulo, SP, Brazil. 2010.
B.Sc. Forest engineering. FCA – Faculty of Agronomic Sciences — University of São Paulo State « Júlio de Mesquita Filho » — UNESP, Brazil. 2006-2010.