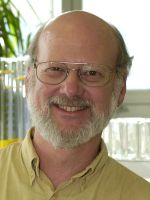 Donald W. Thomas (1955-2009)
Ancien Membre régulier
Écophysiologie animale
Université de Sherbrooke
Faculté des Sciences
Département de biologie
2500, boul. de l'Université
Sherbrooke (Québec) J1K 2R1
Canada

À la mémoire de Don


Fondation Donald Thomas

FORMATION
Postdoctorat Forestry 1985 (University of Washington)
Postdoctorat Biology 1984 (Carleton University)
Ph.D. Biology 1982 (University of Aberdeen)
M.Sc. Biology 1978 (Carleton University)
B.Sc. Biology 1975 (University of New Brunswick)
Le 30 mai 2009, est décédé à l'âge de 55 ans, le professeur Donald W. Thomas, doyen de la Faculté des sciences, des suites d'un accident vasculaire cérébral, sur son terrain d'expérimentation en Corse. Le CEF perd ainsi un très important chercheur en écophysiologie animale et un passionné de la vie!
THÈMES DE RECHERCHE
Depuis mon entrée en fonction à l'Université de Sherbrooke en 1985 en tant que Professeur-chercheur, mon programme de recherche et de formation de jeunes chercheurs et chercheures a porté sur l'équilibre et les contraintes énergétiques et nutritionnelles chez les homéothermes en sens large. J'utilise les mammifères et les oiseaux comme modèles biologiques et mes recherches portent autant sur les animaux libres dans la nature que dans le laboratoire. Je crois que le mariage des méthodes précises du laboratoire avec les études sur le terrain permet de mieux comprendre les contraintes énergétiques et nutritionnelles que les animaux doivent solutionner dans leur vie quotidienne. Durant les derniers 15 ans, mes recherches et celles de mes étudiants ont abordé des problématiques très diversifiées:
torpeur et hibernation (chauves-souris insectivores et rongeurs)
fonction digestive et extraction des nutriments (chauves-souris frugivores et rongeurs)
condition corporelle et régulation du métabolisme (chauves-souris frugivores, rongeurs et oiseaux)
flux de chaleur (cornes des bovidés et modèles taxidermiques)
dépenses d'énergie lors des périodes de grande demande (reproduction chez les oiseaux et hivernage chez les rongeurs).
C'est ce dernier axe qui m'a amené à établir une collaboration avec les Drs Lambrechts et Blondel du Centre d'Écologie Fonctionnelle et Évolutive (CNRS, Montpellier, France) afin de me permettre de marier l'approche écophysiologique avec l'écologie évolutive, collaboration qui ouvre de nouvelles orientations de recherches en France.
PUBLICATIONS
Books
Book chapters
Edited books, special journal editions and proceedings
Peer-reviewed articles
Articles published in proceedings
Scientific reports, manuals and others
Theses, dissertations and essays
Thomas, D.W. (1982) Ecology of an African Savanna Fruit Bat Community: Resource Partitioning and Role in Seed Dispersal. PhD thesis, University of Aberdeen, U.K.
Thomas, D.W. (1978) Aspects of the Social and Mating Behaviour of the Bat, Myotis lucifugus, at Hibernacula in Southern Ontario. Master's thesis, Carleton University.
Supervised theses, dissertations and essays
Dubois, Y. (2006) Écologie thermique et sélection d'habitats chez la tortue des bois (Glyptemys insculpta) à la limite nord de sa distribution. Master's thesis, Université de Sherbrooke
Pitre, M.-H. (2006) Composition lipidique et hibernation chez la petite chauve-souris brune (Myotis lucifugus). Master's thesis, Université de Sherbrooke
Non peer-reviewed articles
<< | MembresReguliers | >>