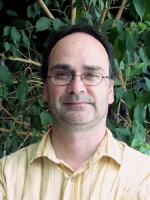 Alain Leduc
Regular member
Landscape Ecology
Université du Québec à Montréal
Département des sciences biologiques
C.P. 8888 Succ. Centre-Ville
Montréal (Québec) Canada, H3C 3P8
(514) 987-3000 Poste 1947
FORMATION
Ph.D. Environmental Science, 1992 (Université du Québec à Montréal). Supervisor : Yves Bergeron
M.Sc. Biology (ornithology), 1986 (Université de Montréal)
B.Sc. Biology, 1982 (Université de Montréal).
BIOGRAPHY
Since 1993, he worked with the Interuniversity Research Group in Forest Ecology (GREFi) as a professor "sous-octroi". Recently, he joined other members of the NSERC/UQAT/UQAM Industrial Chair in Sustainable Forest Management with whom he was collaborating for several years already. He specializes in landscape ecology and his main field of interest is the influence of the scale on the development of species response model to their environment. Most recently, his work is directed towards growth prediction of young post-harvest stands based on large scale forest inventories (8 to 30 years old).
Research orientation
Development of a sustainable forestry adapted to northern ecosystems
Large scale regionalization of northern forests based on fire regime and forest cover composition. A well adapted forest management of the boreal forest should be based upon a good recognition of his spatial variability. Regionalisation should reflect the main ecological factors that are structuring the forest mosaic. Most of the current ecological classification systems aren't taking into account disturbance regime variations when addressing regionalization of the territory. This part of the study aims at adapting ecological classification to a regionalization based upon the natural disturbance regimes.
Including forest fire risk when calculating annual allowable yield. The northern boreal forest is more subject to fire than the mixed boreal forest. Concern to whether or not it's management in terms of silvicultural use is going to sustain an industrial activity is arising. This milestone will provide an illustration, by way of simulations, of the supply loss at risk for the forest industry when managing these territories. The model will be able to distinguish two potential sources of supply loss: the immediate loss related to forest fires and the future loss resulting from regeneration failure
Characterization and prediction of the development of young post-harvest stand
The Eastern boreal forest has sustained an industrial forest management for almost thirty years. In regions where natural forests dominate, the annual allowable yield is estimated using standing wood volumes and rotation times while in managed forests, the evaluation will rather be based on a the knowledge and prediction of post-harvest stand development. In fact, the forest industry of Eastern Canada is evolving towards a period where timber supply will be resting on a capital in constant renewal rather than on a large existing forest capital. In this context, it becomes crucial to be able to make early diagnosis of the development and productivity of post-harvest stands to evaluate the available timber supply of a given region.
The objective of our research is to establish links between past silvicultural practices and prevalent conditions of second-growth stands. We also wish to evaluate the different management options influencing establishment and/or growth of stands. On a shorter term, this project aims at:
Evaluating regeneration quality (site classification based on distribution coefficient, density and growth of commercial stems); defining the relationship between regeneration state and environmental conditions, which can be either permanent (physical attributes) or non-permanent (type of harvest, type of harvested stands, competitive vegetation, etc.)
Refining actual prediction models of regeneration strata development. Define regeneration delay period and development curves based on the actual characteristics of pole stages.
PUBLICATIONS
Books
Gauthier, S., Vaillancourt, M.-A., Leduc, A., De Grandpre, L., Kneeshaw, D.D., Morin, H., Drapeau, P., Bergeron, Y. (2009) Ecosystem Management in the Boreal Forest. Presses de l'Université du Québec, Québec, QC, Canada. 572 p
Gauthier, S., Vaillancourt, M.-A., Leduc, A., De Grandpre, L., Kneeshaw, D.D., Morin, H., Drapeau, P., Bergeron, Y. (2008) Aménagement écosystémique en forêt boréale. Presses de l'Université du Québec, Québec, QC, Canada. 568 p
Book chapters
Edited books, special journal editions and proceedings
Peer-reviewed articles
Articles published in proceedings
Roy Proulx, S., Bergeron, Y., Jutras, S., Leduc, A. (2018) The effects of partial cutting in black spruce-feather moss bioclimatic domain on hydromorphic soils2. In ECCB2018: Proceedings of the 5th European Congress of Conservation Biology.
Drapeau, P., Leduc, A., Kneeshaw, D.D., Gauthier, S., Bergeron, Y., Imbeau, L. (2010) Paramètres de suivi de l'aménagement écosystémique en forêt boréale. In Biodiversité, naturalité et humanité pour inspirer la gestion des forêts. (Vallauri, D., Andre, J., Genot, J.-C., De Palma, J.-P. and Eynard-Machet, R., Eds.) Tec & Doc
Gauthier, S., Vaillancourt, M.A., De Grandpre, L., Leduc, A., Drapeau, P., Jette, J.P. (2010) L'aménagement forestier écosystémique: une approche pour préserver la biodiversité en forêt boréale. In Biodiversité, naturalité et humanité pour inspirer la gestion des forêts. (Vallauri, D., Andre, J., Génot, J.-C. and De Palma, J.-P. and Eynard-Machet, R., Eds.) Tech & Doc
Scientific reports, manuals and others
Theses, dissertations and essays
Leduc, A. (2013) Dix-huit ans de changements in situ du couvert forestier dans une chronoséquence de 249 ans de la forêt boréale mixte en Abitibi. Master's thesis, Université du Québec à Montréal
Leduc, A. (1985) Étude de l'alimentation du grand héron (Ardea herodias) Aux Iles de la Paix, Québec. Master's thesis, Université de Montréal
Supervised theses, dissertations and essays
Non peer-reviewed articles
<< Line Lapointe | MembresReguliers | François Lorenzetti >>