Online registration is over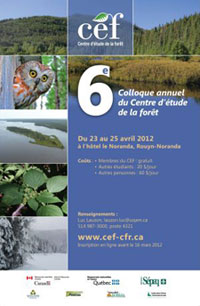 Do not hesitate to share
the PDF of the poster!

CFR 6th ANNUAL CONFERENCE
23-25 April 2012 at Hôtel Le Noranda

, Rouyn-Noranda
The CFR and the NSERC-UQAT-UQAM Industrial Chair in Sustainable Forest Management (Chaire industrielle CRSNG-UQAT-UQAM en aménagement forestier durable, Chaire AFD)

are pleased to invite you to the sixth annual conference of the CEF, which will take place on April 23rd, 24th and 25th, 2012, together with a workshop of SFM Chair, at the Hotel Noranda (Rouyn-Noranda). The conference and workshop are open to those associated with the Chair and the CEF, as well as other members of the scientific community.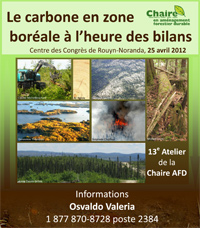 The workshop of the SFM Industrial Chair (L'atelier de la Chaire AFD

) will be held on April 25th and touch specifically on aspects connected with carbon stock assessments, whereas the CFR conference will focus on results of research conducted by its members.









Program

Detailed Program | Complete version with presentation abstracts

(may change without notice)
Monday 23 April
Morning | Departure of chartered buses from Quebec and Montreal for Rouyn-Noranda
Evening | Meet up in the bar of the Hôtel Noranda
Tuesday 24 April
Morning | Conference opening and CFR student presentations
Afternoon | CFR student presentations
Late afternoon | Quiz regarding the "Plan Nord" and the Annual General Meeting of the regular members (with supper)
Evening | Social at the "Cabaret de la dernière chance," with live music from Élixir De Gumbo

Wednesday 25 April
Morning | Dr. Paul DelGiorgio, Professor at UQAM, will present a special talk entitled Émission de gaz à effet de serre des lacs et rivières en territoire forestier (Greenhouse gas emissions from lakes and rivers in forested lands)
Morning | CFR student presentations and SFM Chair Workshop on carbon assessment
Afternoon| CFR student presentations and continuation of SFM Chair Workshop on carbon assessment
Late afternoon | Conference closing talk by Dr. Dominique Arseneault, professor at UQAR, Changement global : comparaison des tendances entre la forêt tempérée et la taïga (1800-2010) (Global change: a comparison of trends between temperate and boreal forests (1800-2100))
Happy Hour | Curling!
Evening | Free
Thursday 26 April
Morning | Departure of chartered buses from Rouyn-Noranda to Quebec and Montreal

Keynote Speaker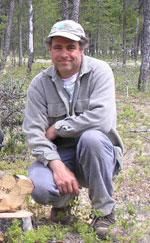 The CEF is pleased to announce that Dominique Arseneault

, who has been a professor at UQAR since 1996, will be this year's keynote speaker. Dr. Arseneault obtained a B.Sc. in forestry (U. Laval, 1987), an M.Sc. in plant biology(U. Laval, 1989), and a doctorate in biology (U. Laval, 1996), and was an environmental consultant from 1989 to 1992. During the course of his graduate studies, he specialised in historical ecology, principally in dendrochronology. His research program is focused on the interactions between ecological disturbance (chiefly forest fires and forest harvesting), climatic change, and long-term forest dynamics (at the scale of centuries and millenia) in the boreal and temperate zones. He has applied a retrospective approach to understanding the responses of ecosystem structure, composition and function to past events and their development towards their current state, notably through the use of dendrochronology and numerous archival documents, including early land survey records of Québec.
Dominique Arseneault will give his presentation at 15h45 during the closing session on 25 April : Changement global : comparaison des tendances entre la forêt tempérée et la taïga (1800-2010)

Special conference speaker

Within the framework of the SFM Chair workshop, a special joint presentation will be offered to all participants. Dr. Paul Del Giorgio, professor in the Department of Biological Sciences at UQAM since 2001, researcher with the Inter-University Limnology Research Group (GRIL), and holder of the Chair in Carbon Biogeochemistry of Boreal Aquatic Systems, will present on April 25th (at8h30) the following talk: Émission de gaz à effet de serre des lacs et rivières en territoire forestier



Quiz on the Plan Nord
Although Rouyn-Noranda is situated outside the territory covered by the Plan Nord, the Abitibi region will be directly affected by "the great project of a generation!" A Quiz regarding the Plan will be presented by Hugo Asselin and Mélanie Desrochers.
Registration & Cost
CFR members (regular, associate, masters or doctoral student, post-doc and professional): free
Other students: $20 per day (pay on site)
Others: $60 per day (pay on site)
Registration deadline : March 16, 2012
Online registration is over!
Door prize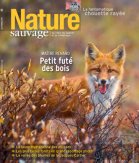 The door prize will be drawn from among participants present at the conference. To be eligible, you will have to deposit your name tag in the drawbox before the conference closing. The draw will take place at the same time that the prizes for the best poster and oral presentation are announced.
1st prize: 4 day package in a SÉPAQ Fauna reserve
2nd prize: Two-year subscription to the magazine Nature Sauvage

Lodging
Rooms can be reserved at the hotel Le Noranda

in Rouyn-Noranda, by specifying that you are with the Centre d'étude de la forêt (group code: CEF230412).
Special rates will apply (until 23 March 2012).
Special rates:
chambres classique - $99 (rooms with 1 queen-size or 2 double beds. Single/double occupancy)
chambres classe affaire - $119 (rooms with 1 queen-size bed. Single/double occupancy)
(not including additional taxes)
$10 per additional person
Free high-speed wireless internet service
Situated at the heart of Old Noranda, next to Lake Osisko, tourist destinations, and the business district, l'Hôtel Gouverneur Le Noranda has 71 rooms, rated 4 stars. The convention centre, which is connected by an elevated walkway to the hotel, can comfortably accomodate 600 people in 8 halls that are equipped with the latest technology.
Over on the restaurant side, Le Cellier can accomodate about 125 people and features a wood stove grill.
During your stay, benefit from a visit to the Jardin Spa massotherapy centre, which also offers high-quality body and aesthetic care. Also discover the features of the new hammam (Turkish bath).

Transportation
Transportation has been organized by the Québec and Montréal poles. Chartered buses will be available to CEF members (without charge).
Departures will be from UQAM in Montréal and Université Laval in Québec on Monday morning, 23 April.
Departure from Montréal
We will rendevous at 8:45 AM in front of the Place-des-Arts metro stop on Kimberly Street, between buildings PK and SB (red star on the map, click on the image to enlarge).
Two travel coaches will depart for Rouyn-Noranda. Coaches are equipped with WiFi, power plugs, headphone jacks(satellite radio) and a central DVD system. (Voir le vidéo corporatif des autocars "grand luxe"

).
Departure from Québec
We will rendevous at 6:45 AM behind the Abitibi-Price building (yellow star on the map, click on the image to enlarge). The coaches are equipped with WiFi and power plugs. A lunch stop is planned for Mont-Laurier.
Departures from Le Noranda Hotel in Rouyn-Noranda will take place Thursday morning, 26 April.
You must be registered for the conference (via the on-line registration page) and be a CEF member to take advantage of the charter service!


Program (subject to change)
18h00
Social | Bar de l'Hôtel Noranda
07h30
Fun run | All are welcome!
Meet at hotel reception
08h00
Information, registration and poster installation | Conference Centre
Hall principal
09h00
Welcoming remarks
Pierre Drapeau and Louis Bernier, co-directors of the CEF
Salle La Grande
1st Concurrent sessions

Modelling


Moderated by Sylvain Delagrange
Salle L'Anode

Ecophysiology


Moderated by Nelson Tiffault, MRNF
Salle La Coulée d'or

09h20

Isabelle Witté
Les réseaux au service de la compréhension des systèmes forestiers
Cynthia Patry
Analyse par traits fonctionnels de l'impact d'un gradient d'aménagement des forêts sur les plantes de sous-bois: Comparaison Finlande vs Canada

09h40

Élise Filotas
La forêt est un système complexe adaptatif
Evelyn Belien
Xylogenesis in black spruce subjected to a rain exclusion in the field

10h00

Steve Cumming
A simulation modelling methodology for strategic planning at regional and national extents
Carlo Lupi
Increasing nitrogen availability and soil temperature: effects on xylem phenology and anatomy of mature black spruce

10h20

Cédric Frenette-Dussault
Prédire la structure des communautés végétales: une approche fonctionnelle
Mathieu Gélinas
Traçage d'azote inorganique marqué (15NH4NO3, NH415NO3) appliqué sur la canopée de sapins matures (Québec, CANADA)

10h40

Pause
2nd Concurrent Sessions

Urban forestry


Moderated by Sara Bastien-Henri, UQAM
Salle L'Anode

Conservation


Moderated by Timothy Work, UQAM
Salle La Coulée d'or

11h00

Bastien Lecigne
Impact des tailles de dégagement des réseaux électriques sur la couronne d'Érables (Acer sp.)
Gerardo Vergara-Asenjo
Forest cover and deforestation in Panama: An analysis of effiency in forest conservation in the country

11h20

Charles Nock
What makes an urban tree?
Jason Fournier
L'importance du lien entre conservation et communautés: résultats d'une étude de cas sur l'appropriation d'un projet d'aires protégées par les acteurs locaux

11h40

Jenna Jacobs
La conservation de la biodiversité associée au bois mort et les fonctions des écosystèmes liés en pessière aménagée
12h00
Lunch (Salle La Capitale)

Tuesday afternoon

13h30
Poster session
Salle La Papetière
3rd Concurrent Sessions

Forest regeneration


Moderated by Brian Harvey, UQAT
Salle L'Anode

Forest defoliators


Moderated by Patrick James, Université de Montréal
Salle La Coulée d'or

15h00

Aurélie Genries
Patrons de régénération du bouleau jaune dans le nord du Québec: le climat n'est pas seul en jeu
Mathieu Neau
La performance de la tordeuse des bourgeons de l'épinette sur l'épinette noire par rapport au sapin baumier est-elle affectée par les changements phénologiques des bourgeons causés par le climat?

15h20

Juliette Boiffin
Comparaison de la régénération après feu de l'épinette noire (Picea mariana (Mill.)) et du pin gris (Pinus banksiana (Lamb.)) dans le domaine bioclimatique de la pessière à mousses
Roberto Quezada Garcia
Plasticité phénotypique chez la tordeuse des bourgeons de l'épinette: Les coûts et les limites

15h40

Jean-Bastien Lambert
L'importance du bois mort pour la régénération du bouleau jaune ("Betula alleghaniensis") dans les forêts feuillues aménagées de l'est de l'Amérique du Nord: de l'écologie fonctionnelle aux implications écologiques
Julien Moulinier
Défoliation artificielle, croissance et mortalité du peuplier faux-tremble: vers une meilleure compréhension de la Livrée des forêts

16h00

Marie Larchevêque
Quels facteurs physico-chimiques conditionnent le succès de la restauration de zones boisées sur des résidus miniers épaissis ?
Guillaume Sainte-Marie
Prévision des pertes liées à la prochaine épidémie de tordeuse des bourgeons de l'épinette au Québec; les mesures de protection auront-elles porté fruit?
16h30
Quiz regarding the Plan Nord
Moderated by Hugo Asselin and Mélanie Desrochers

Salle La Grande

17h30

Annual General Meeting of the regular members (with supper)

Salle La Capitale

20h00

Social at the Cabaret de la dernière chance with

Élixir De Gumbo
07h45
Information and Registration
08h10
[+Opening remarks, coffee-croissants
13th annual workshop of NSERC-UQAT-UQAM Industrial Chair in Sustainable Forest Management
David Paré, Researcher with the Canadian Forest Service (Natural Resources Canada) presents: Peut-on prédire avec confiance les changements des stocks de carbone de la forêt

boréale?+]
Salle La Grande

08h25
Breakfast Conference with Paul DelGiorgio, Professor at the Université du Québec à Montréal
and holder of the Chair in Carbon Biogeochemistry of Boreal Aquatic Systems.
Émission de gaz à effet de serre des lacs et rivières en territoire forestier
Salle La Grande
4th Concurrent Sessions

Climatic change


Moderated by Christopher Carcaillet, École Pratique des Hautes Études (Paris, France)
Salle L'Anode

Sylviculture and Restoration


Moderated by François Girard, Université Laval
Salle La Coulée d'or

SFM Chair Workshop : Boreal zone carbon stock assessments


Moderated by David Paré
Salle La Grande

09h00

Marie-Hélène Jacques
Effet d'une hausse de la température sur deux espèces herbacées en forêt boréale méridionale
Xavier Cavard, chercheur post-doctoral à l'Université du Québec en Abitibi-Témiscamingue et à l'Université du Québec à Chicoutimi.
Peut-on utiliser l'aménagement mixte pour maximiser la séquestration du carbone en forêt boréale de l'Est Canadien?

09h20

Aurélie Terrier
La distribution des espèces d'arbres pourrait réduire les impacts du réchauffement global sur les feux de la forêt boréale: implications pour un aménagement visant une atténuation des impacts des changements climatiques
Annick St-Denis
L'ensemencement d'arbres pour la restauration de friches herbacées
Charles Ward, étudiant au doctorat, Université Laval
Accumulation du carbone dans le sol en fonction du temps depuis feu dans la pessière

09h40

Kenneth Anyomi
Using height growth to model local and regional response of trembling aspen (Populus tremuloides Michx.) to climate within the boreal forest of western Québec
Ruth Serra
"Sheep Vegetation Management": Une méthode biologique de contrôle des compétiteurs pour les jeunes plantations de conifères
Johanne Pelletier, étudiante au doctorat, Université McGill
Dynamique d'usage du sol liée à l'agriculture migratoire: suivi des stocks de carbone forestier et de la biodiversité à travers le temps au Panama

10h00

Narayan Dhital
Impact of fire and climate change on timber supply in a forest management unit in western Quebec
Mario Buitrago
Réponse initiale du mélèze hybride à différentes préparations de terrain et deux profondeurs de plantation
Manuella Strukelj, étudiante au doctorat, UQAT
Transformations chimiques du bois mort et des litières de feuilles au cours de la décomposition
10h20
Pause
5th Concurrent Sessions

Forest dynamics


Moderated by Jean-Claude Ruel, Université Laval
Salle L'Anode

Fungi and soils


Moderated by Louis Bernier, Université Laval
Salle La Coulée d'or

SFM Chair workshop : Boreal zone carbon stock assessments


Moderated by David Paré
Salle La Grande

10h40

Kaysandra Waldron
Caractérisation des attributs post-chablis et impacts des coupes de récupération
Antoine Tardif
Prédiction d'un processus écosystémique par les traits agrégés: application aux taux de décomposition de litières végétales
Jean-François Boucher, professeur, UQAC
Enjeux autour des principales mesures potentielles d'atténuation des changements climatiques dans le secteur forestier canadien

11h00

François Girard
Modification de la composition floristique et forestière par le chablis partiel dans la région de la Côte-Nord (Québec)
Erika Naruzawa
Étude de l'implication d'un gène encodant une cyclooxygénase dans le dimorphisme levure-mycélium chez les agents de la maladie hollandaise de l'orme

11h10

Frederic Raulier, professeur, Université Laval
Modélisation des flux de carbone, de la forêt au produit (secteur Chantiers Chibougamau)

11h20

Chafi Chaieb
Étude de la succession en pessière: concordance avec le gradient cartographique d'ouverture de la canopée
Lauriane Varain
Transformation de deux Ascomycètes: Septoria musiva, et S. populicola agents pathogènes du peuplier en Amérique du Nord

11h40

Nicolas Fauvart
Dynamique de la mortalité des épinettes noires de peuplements en transition: Abitibi et Nord du Lac Saint-Jean
Mathilde Chomel
Effet de la mixité des litières de peuplier hybride et d'épinette blanche sur le processus de décomposition et ses acteurs en plantations à haut rendement
Achille-Benjamin Laurent, étudiant au doctorat en génie mécanique, Université Laval
Inventaire de cycle de vie des produits de bois
12h00
Lunch (La Capitale)

Wednesday afternoon

6th Concurrent Sessions

Effet des coupes forestières


Moderated by Antoine Nappi, Bureau du forestier en chef
Salle L'Anode

Terrestrial and avi-fauna


Moderated by André Desrochers, Université Laval
Salle La Coulée d'or

SFM Chair workshop : Boreal zone carbon stock assessments


Moderated by David Paré
Salle La Grande

13h30

Cécile Robert
Caractérisation de l'expérience des visiteurs pour une meilleure harmonisation des usages en forêt.
Simon Bédard
Les paysages aménagés par la coupe satisfont-ils les exigences écologiques du Pic maculé ?
Louis Dumas, ing. f., Tembec
Modélisation du carbone dans une unité de gestion (TEMBEC) de l'Abitibi en fonction de l'aménagement

13h50

Édith Lachance
Fondements écosystémiques des coupes à rétention de bouquets sur la Côte-Nord
Jonathan Gagnon
Sélection d'habitat et succès reproducteur de la Petite Nyctale (Aegolius acadicus) en sapinière à bouleau blanc de l'ouest

14h00

Sylvain Labbé, PDG, Q-WEB
L'industrie du bois et les politiques carbone: De Kyoto à Rio

14h10

Arun Bose
Evaluation of the effect of partial harvesting on recruitment and mortality of boreal mixedwood
Pierre-Olivier Jean
La spectroscopie dans l'infrarouge proche comme outil de prédiction de l'écologie nutritionnelle du cerf de Virginie

14h30

Veronique Yelle
Social Acceptability of Ecosystem Management for Québec's Boreal Black Spruce Forest: How are large clearcuts,inspired by fire, perceived?
Léa Harvey
Déterminants de l'effort d'approvisionnement hivernal du bison des plaines exposé à la prédation par le loup gris
Discussion Panel moderated by Brian Harvey
La science du carbone, l'aménagement forestier et les perspectives industrielles, with Paul Del Giorgio, Jean-François Boucher, Frédéric Raulier and Sylvain Labbé

14h50

Luz Orlanda Jiménez Motta
Effets de la coupe partielle sur les caractéristiques écophysiologiques des espèces forestières au nord du Québec
Guillaume Latombe
Modélisation basée sur l'individu d'un système prédateur-proies dynamique, dans un contexte de compétition apparente entre le caribou forestier et l'orignal, par l'entremise du loup
15h10
Pause
15h45

Keynote presentation by Dominique Arseneault, UQAR


Changement global: comparaison des tendances entre la forêt tempérée et la taïga (1800-2010)

Salle La Grande

16h45
Closing remarks and awarding of prizes
Pierre Drapeau and Louis Bernier, co-directors of the CEF

Salle A

17h00
Happy Hour Curling
Details

Municipal Arena
Call for oral presentations and posters
This year we are inviting all CFR members with results to present their work either as a poster or oral presentation. Priority will be given as follows: 1) student-members (including postdocs) and 2) all other CEF members.
The deadline for abstract submissions has passed. Thank you.
Awards
Best oral presentation: the magazine Couvert Boréal will offer a one-year membership and the chance to publish an article in their magazine for the best STUDENT oral presentation (by jury vote). The winner will also receive a prize from the CFR.
Best poster:

L'Association forestière des Cantons de l'Est (AFCE ) will offer their book « Des feuillus nobles en Estrie et au Centre-du-Québec : guide de mise en valeur » and a one-year subscription to their magazine Le progrès forestier , along with the possibility of writing an article for the journal.
In addition, the Forest Institute of Canada is presenting an award for the best poster (by participant vote) and will offer a $100 prize and a one-year membership to their publication (The Forestry Chronicle). The name of the winner, together with his/her abstract, will be included in the Orleans section of the next issue of The Forestry Chronicle
Oral Presentation Specifications - Your presentation is limited to 15 minutes, followed by a 5 minute question period.
Poster Specifications - All Posters must be in PORTRAIT format, with maximum dimensions of 36 inches wide by 48 inches tall.

Partners
Information
For more information regarding the Conference, please contact Luc Lauzon.